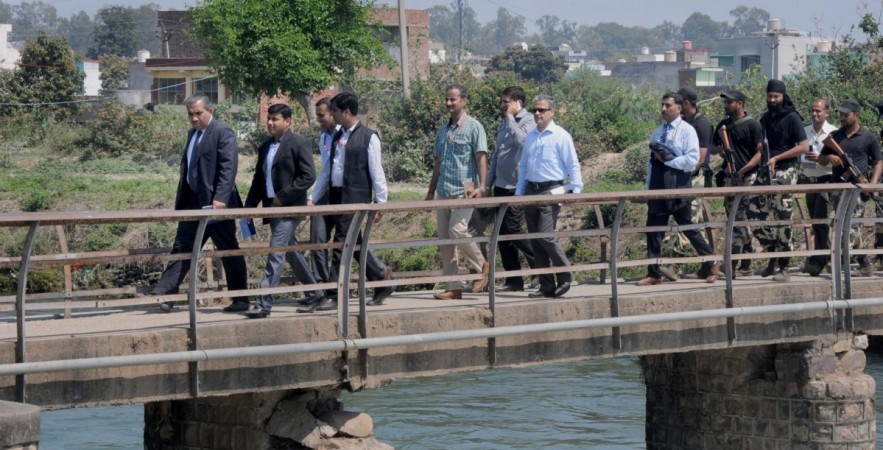 The National Investigation Agency (NIA) team investigating Jan. 2 attack on the Indian Air Force base in Punjab's Pathankot will reportedly visit Pakistan for further probe. The date for the same has not been decided yet, Union Minister of State for Home Affairs Kiren Rijiju said Friday.
The announcement was made after Pakistan's Joint Investigation Team (JIT), which visited India to investigate the Pathankot attack, welcomed the NIA's proposal to visit Pakistan, according to Press Trust of India. Both the countries will work on a date for the visit.
The Pakistani JIT, which arrived in India Sunday, concluded its investigation and meeting with the NIA Friday. It recorded the statements of 16 witnesses, including Superintendent of Police Salwinder Singh, his friend Rajesh Verma and cook Madan Gopal, who were abducted by gunmen on the night of Dec. 31, 2015.
They also recorded statements of the doctors who conducted post-mortem on militants' bodies.
The JIT also collected the DNA report of the four militants who attacked the airbase and killed seven Indian security personnel. The four terrorists were Nasir Hussain from Punjab province, Abu Bakar from Gujranwala, and Umar Farooq and Abdul Qayum from Sindh.
They also had meetings with NIA officials handling the Pathankot probe.
"The meeting between Indian and Pakistani investigators is positive. They (Pakistani team) have not contradicted our findings. It all went well and satisfactorily. Our agencies have done whatever was necessary," PTI quoted Rijiju as saying.
The JIT, headed by Chief of Punjab's Counter Terrorism Department (CTD) Muhammad Tahir Rai, included Lahore's Deputy Director-General of Intelligence Bureau Mohammad Azim Arshad, ISI official Lieutenant Colonel Tanvir Ahmed, Military Intelligence official Lieutenant Colonel Irfan Mirza and Gujaranwala CTD Investigating Officer Shahid Tanveer.
Pakistan sent the JIT after a six-member Pakistani Special Investigation Team (SIT) examined the evidence, provided by India, suggesting that the Pathankot attackers were from Pakistan and members of Jaish-e-Mohammed. The team was formed on the orders of Prime Minister Nawaz Sharif.