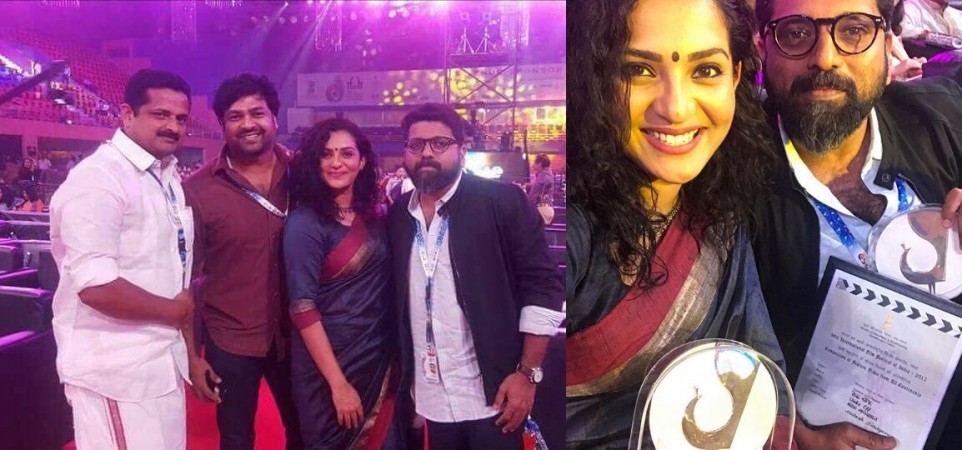 South Indian actress Parvathy, who recently made her debut in Bollywood, bagged the best actress award at the 48th International Film Festival of India in Goa on November 28. The actress won the Silver Peacock and a cash prize of Rs 10 lakh for her remarkable performance in the Malayalam movie Take Off.
"This is truly a very special night especially because this movie came from a certain need to keep someone alive and that's our dear friend Rajesh Pillai, who passed away last year. He was a filmmaker and he had grand plans to make wonderful stories about human relationships and emotions. But he left us. It's the day he left us that Mahesh, Sanjay sir [writer] and all of us together and we decided to definitely make Take Off," Parvathy said after receiving the award.
"I would like to dedicate this movie, my performance and all the accolades this movie has received to Rajesh and we promise to keep him alive and his vision [sic]," she added.
During the award night, Parvathy also opened up about her character Sameera, who is a representative of many women of our society who dedicate their life for their family.
"Sameera was so far away and I really didn't know how to be her. I had to immerse myself in the darkness that she was living day in and day out. She is a representative of so many women who don't think of their life or what they are going to do. All they can think of is where's the next meal coming from, how do I pay off this loan and take care of my family. And I dedicate this award to all the nurses of Kerala, all those women who stood there ground and with love and hope and conviction and got out of that terrible dilemma they were stuck in [sic]," Parvathy added.
Meanwhile, Mahesh Narayanan bagged the Special Jury Award for his debut directorial venture Take Off during the event.
Also check: Kamal Haasan about Take Off || Suriya's Take Off review
Celebrities, including Kunchacko Boban, Aju Varghese, Sou Sadanandan, Joju George, Poornima Indrajith, Shamjit Sain, Salim Ahamed, Geetu Mohandas and many others have been showering praise on Parvathy and Mahesh for bagging the prestigious awards at the international platform creating history for Malayalam entertainment industry.
More about Take Off movie
Take Off narrated the real life survival story of 19 Keralite nurses, who were stuck in war-torn Iraq in 2014. The trials they faced while being held hostages by ISIS militants and how the timely actions of he Indian Ambassador in Iraq brought them back to India form the narrative of the thriller. The movie, which has Parvathy, Kunchacko Boban, Fahadh Faasil and Asif Ali in main roles, garnered tremendous response from critics and audience alike and was even tagged as the best movie of the year.
Read more: This timeline is a throwback of what exactly happened after Indian nurses in Iraq in 2014
Take Off was a tribute to the late director Rajesh Pillai and was bankrolled by his wife Mekha under the banner of Rajesh Pillai Films in association with Anto Joseph Film Company.
"Every single moment of my life spent with Rajesh Chettan was magically linked to the world of cinema. Take Off, for all of us associated with it, was a way of remembering and acknowledging his passion for good cinema. I'm sure wherever he is, Rajesh Chettan will be beaming with pride right now. Well done, team Take Off! [sic]," Mekha posted on Facebook.
Check out celebrity reactions on Parvathy and Mahesh winning awards:
Geetu Mohan Das
Atta girl Parvathy!!! Welcome to the festivals!!
Sou Sadanandan
Congratulations Parvathy TK & Mahesh Narayanan for winning the best actress and special jury awards respectively for #Takeoff, making Malayalam proud at the Indian-International Venue of IFFI 2017 ☺ Rajesh Pillai is smiling down at you both and the rest of the team ❤❤
-