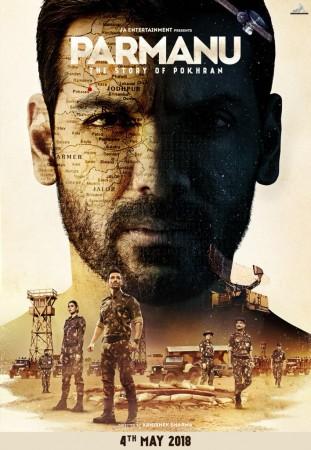 Looks like John Abraham has no care in the world for the police complaint filed against him. The actor took to social media to announce the release date and a brand new poster of Parmanu: The Story of Pokhran, 'without' KriArj and Zee Studios as production partners.
He captioned the image as: "The ultimate countdown to the mission begins. A thrilling journey of patriotism & pride launches on 4th May 2018. #1MonthToParmanu but a shocker drops your way tomorrow itself! @DianaPenty #AbhishekSharma @bomanirani."
Zee Studios and Prernaa Arora's KriArj Entertainment had filed an FIR against the actor for illegally terminating their contract. John later released a statement saying: "There has been no case registered by Zee, as reported by some sections of the media. No such FIR has been registered and this fact can be verified from the said police station as well."
But Prernaa Arora told Mid-Day: "We are also planning to approach the Producers Guild [The Film & Television Producers Guild of India] and make an official complaint with them as well. John will become the laughing stock of the industry when the truth comes out. His case will serve as an example [for others]."
Prernaa also told Spotboye.com: "I would like to tell John: Look at your own lifestyle. Who is he? Is he a King? Is he a Prince? Did he come into this industry with a throne on his head? He is only a model who has gone through several ups and downs. Directors are not dying to work with him. He is not Hrithik Roshan or Tiger Shroff."
When asked about John calling Prernaa a trader, she concluded by saying: "I am glad. I call him a wolf in sheep's clothing. He has used very derogatory language, it shows his upbringing. I have a father who can answer him but he is a dignified man who won't stoop low. And think of it, what is he making in Parmanu? Is it for the army? Is it for the country?"
"Is he making a patriotic film? Or is it for those Rs 2 crore? His marketing campaign is a sham. If I am a trader, John is a traitor for sure. Honestly, his class has shown up. I really don't care what he has spoken about me. The best way to solve this was to call up. What marketing will I do for this man and the film now after so much negativity? Saying that he is the best, he is wow? After so much negativity?"