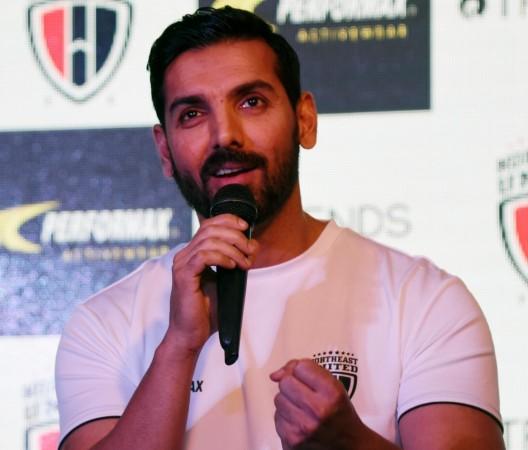 John Abraham's upcoming movie Parmanu, which was supposed to be released on May 11, is in news for the wrong reasons. Allegations and counter-allegations are being made on two of the production companies - KriArj Entertainment and JA Entertainment.
After John's production house JA Entertainment broke contract with KriArj Entertainment for the movie Parmanu, the latter termed the termination as "illegal" and "invalid".
In response to the termination of contract, KriArj Entertainment accused John and his production house of "fraudulently trying to delay the release of the film". They slammed the actor and his production house vehemently in a statement released recently.
Read the statement published in Bollywood Hungama.
"Trade notice issued by JA Entertainment claiming termination of their agreement with us for the Film Parmanu, please note that the said termination is illegal and invalid.

"Our rights in the Film as a joint producer/presenter and owner of all rights are fully secured, we have always fulfilled all our commitments till date and have clear intent to continue doing so. JA Ent has also always been aware that Zee Studios are KriArj's partners in the Film from very early stages as co-producers and also the acquirers of the Overseas theatrical, digital,satellite and music rights of the Film.

"JA Ent has till date not fulfilled its commitment of completing and intimating us of the completion the film and is fraudulently trying to delay the release of the film thereby causing huge monetary losses and damage to our reputation. We had all our plans of promoting the film and a wide release in place and were to kick start the campaign shortly for which also there have been substantial expenses already done. JA Ent has repeatedly put a spoke in the wheel and derailed the marketing campaign which is hurting the prospects of the film and is the cause of losses being continuously caused to us.

"After making substantial payments to them JA Ent has kept making unreasonable demands for money from us which are completely outside the scope of their initial understanding with us.This has made it abundantly clear that they are trying to defraud us by now attempting to wriggle out of a legally binding contract with us which is not only unlawful but also unethical. We hope better sense prevails on JA Ent as we have been only looking towards the interest of the Film and the best possible release.

"It goes without saying that any one dealing with the Film or any of its rights through JA Ent will be doing so at their own risk and peril and will also have to face legal consequences. We have already instructed our attorneys who will be moving the necessary authorities soon for seeking justice against the breaches committed by JA Ent and its promoter Mr John Abraham."
Meanwhile, John's team has also issued a statement, accusing KriArj Entertainment of committing "material breaches", which according to them led to the termination of contract.
Here is the clarification from JA Entertainment:
This is with reference to the Public Notice issued yesterday by us (copy attached) regarding the termination of our agreement with KriArj Entertainment Pvt. Ltd for our film "Parmanu" and their unsubstantiated response to it circulated in some sections of the media.

"We would like to state the following facts:

"Termination of the agreement by us is valid and legal. Kriarj has committed material breaches which left us with no choice but to terminate in the interest of the film. We would like to state that this extreme step has been taken by us after days of trying to resolve the issues at hand in the best interest of the release of the film. We have fulfilled our film. We have fulfilled our commitment at every stage of this project and intimated Kriarj in writing from time to time. We have been waiting and asking for payments at every stage, our payments have either been delayed or we have received wrong UTR number. Cheque payments have been stopped time and again.

"Delay in payments / non-payments, have caused delays in the post production work after the film's principal shoot was completed by us in time and on schedule last year. Despite repeated follow up, the distribution plan for the film has not been shared and there has been no transparency in their dealings with third parties. We have till date not been privy to any signed contracts of third parties with Kriarj, if any.

"JA Entertainment has time and again discussed the marketing campaign for the film with KriArj but the release dates have been pushed at least 3 times, due to delayed payments. Not only that, Kriarj without our approval has gone out and made statements giving false reasons for the delay. Our repeated follow-ups have only been met with false promises to settle the issue, thus wasting crucial time on the project. The industry knows of the track record of Kriarj. There has been a similar incident in the past with another film where they have done the same thing.

"Given the above, and in the best interest of the film, we have terminated our contract with KriArj Entertainment Pvt. Ltd. and will soon announce the release schedule. Any future attempts by Kriarj to jeopardise the film or defame the production house and / or the film, like they have done in the past with other films, will compel us to initiate legal proceedings against them.

"We request you for your continued support to us and the film and for you to use this statement in its entirety. May we also request you to kindly refrain from any conjecture based stories or putting out unverified facts on this matter."