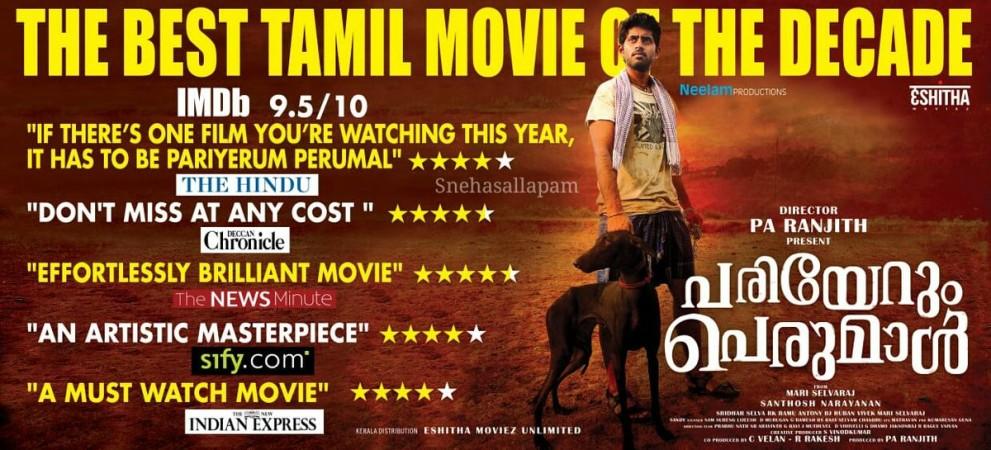 Pa Ranjith-produced Pariyerum Perumal has garnered unanimous positive reviews from the critics and audience. Many big names from the Kollywood have hailed the film's content and the performances from the artists.
Pariyerum Perumal is an anti-caste movie which throws light on the inequalities in the name of caste in the society. Pariyerum Perumal (Kathir) belongs to a lower-caste and takes up a law course. As he does not speak English, he goes through a lot of embarrassment. Jothi Mahalakshmi (Anandhi) comes to his help as she tries to teach him the language.
She is from an upper-caste family and her parents are concerned about her friendship with a lower-caste boy. Thereafter, they start troubling him. What follows next should be seen on-screen.
Pariyerum Perumal has been praised for its realistic narrative and solid performance from the cast. The movie promotes optimism and this is one of the reasons why the audience have wholeheartedly appreciated the movie.
From Rajinikanth to Shankar, many celebrities have said good words about the movie which has given a big boost to the film.
However, the disappointing factor is that the full movie with HD quality has been leaked on Tamil Rockers and other sites have uploaded the film, which is now available for "free downloading."
Coming to the piracy, Vishal has taken several measures ever since he came to the power as the President of the Tamil Film Producers' Council. Unfortunately, his efforts have not helped to put an end to the piracy.
With the rise in internet consumption, online streaming sites like Netflix and Amazon Prime are acquiring the digital rights of the movies and the Tamil filmmakers should consider selling the rights to them to generate extra income.