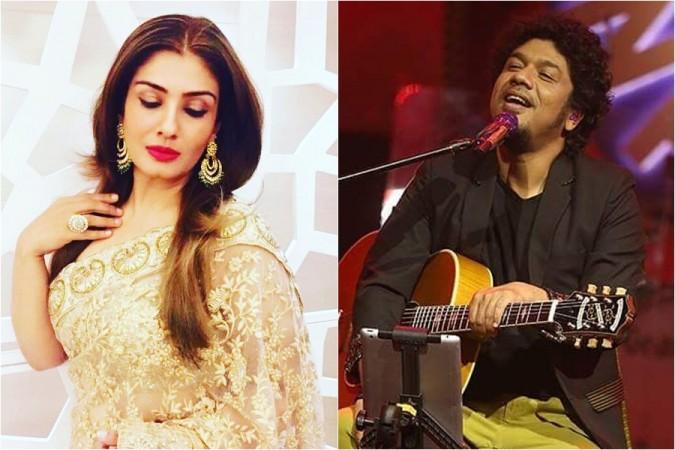 After severely attacking Papon for allegedly kissing a minor girl, Raveena Tandon now feels that the Assamese singer should be given the benefit of the doubt and said that he was not a repeat offender. The singer had been denied permission recently to perform during Bihu celebrations in Assam.
"I think Papon's legal team didn't help him by saying that it was a guru-shishya kiss. The legal team was trying to justify it as a guru-shishya love, which angered a lot of people. If it is seen as a guru-shishya kiss, it was definitely unacceptable. But later, in fact much later, Papon came out to say that it was a misjudgment. So, I feel that he can be given the benefit of doubt," Raveena was quoted as saying by Spotboye.
When she was asked about the possibility of Papon not speaking the truth in the end, the Mohra actress said, "Now that we will never know. But think of it, he has a clean record. He is not a repeat offender. As I said, we can give him the benefit of doubt, misjudgment can happen, it has happened with many people when they rushed to kiss their friend on the cheek."
In February, Raveena had condemned Papon after a video showed him allegedly kissing the minor girl. The video, which went viral on social media, had triggered an outrage.
"Disgusting! Shameful! Perverse! This man Papon should be arrested ! The girl's parents succumbing to pressure! The explanations given are ridiculous! Haven't felt such anger and shame to see this happen and some on tv debates actually defending the act," Raveena had tweeted then. The actress has now deleted the tweet.
When Papon's legal representatives tried to do the damage control by citing that it was a "guru-shishya kiss (mentor and disciple)", Raveena had again criticized the singer, calling the justification "repulsive".
"#papons legal representatives doing not good for him either,spoiling it further by making silly arguments,if it happened unintentionally and the girl moved her face,admit it happened,apologise,instead of giving it a "guru shishya" love spin,sounds repulsive," she tweeted.
But after considering the chain of events, the actress now seems to have retracted her earlier opinion and feels that the kiss could have been a mistake.
"If you have closely followed the chain of events that unfolded as days went by, you will agree with my current opinion," she said.
She added, "I wouldn't have given him the benefit of doubt if there were other girls who would have come out to complain against him in the same regard like a few cases of sexual harassment in the recent past have seen, but no one did."