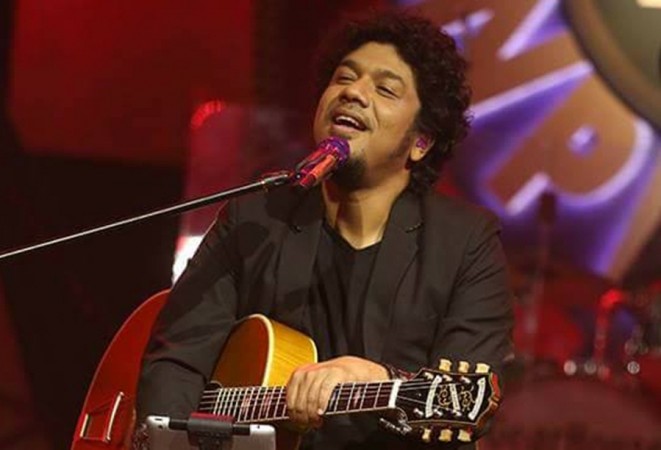 Bollywood's renowned singer Papon has found himself in hot water for his Facebook live video in which he was seen celebrating Holi with contestants.
In the video, the singer, who is a jury on Voice of India Kids 2018, was seen applying colors to a minor girl and kissing her on the sets of the reality TV show on February 20. The video is still on Papon's official Facebook page.
Supreme Court lawyer Runa Bhuyan found the video objectionable and filed a complaint with National Commission for Protection of Child Rights accusing him of "inappropriately kissing a minor girl".
The singer has now clarified his actions in an official statement on Twitter.
Read the full unedited text here:
"I am very painfully conscious of the accusations that have been made against me in the last few days. Anyone who knows me would be aware that I am an extremely affectionate and expressive person. That is the way I have been brought up and that's how I have always been with people close to me or people I care about. To show affection for an 11-year-old child who I have been mentoring for a while now is not an alien concept for me. Please do remember that it a video on my own Facebook live and stop for a moment and at least wonder why I would myself promote a video where I am 'apparently' doing all the unmentionable things that I am being accused of.
My humble request to everyone, when you do come across this matter is to just pause and think about how much harm this does to the people involved. I have a loving wife of over 14 years and two young children. There is a little girl involved, whose identity is not masked in any way. Both of our families are being destroyed forever, just by people jumping to conclusions. However, this is not to say that I haven't made a mistake. I might have done it spontaneously but in today's environment, to touch a girl child, however innocent your thoughts are, is not advisable. I am sorry for that. Please do accuse me of being naive and stupid even but please do not call me all those disgusting names.
Please note that the girl in question and her family have gone on record and stated that what is being depicted is not what actually transpired and it is in fact just a case of faulty camera angles and an accidental move and not a sexual assault as being reported. The said incident transpired in the presence of personnel from the reality show and there is nothing objectionable about it. I admit that I am an extremely affable person and am very convivial with my fan community but please bear in mind that I have been happily married for over 14 years with two children and I would do nothing to cause harm to them. I hold the girl in high regards not only as a lady but also as a contestant on the reality show I am part of. If I had anything to be culpable of, the said video would have been deleted from my social media.
As an accountable civilian, the safety and respect of women is of grave importance to me and I would never commit an act that is inappropriate or discourteous in any form. Please know that my intentions with everything that I do in my life are always pure and honest and I would never commit an indecent act as it is being portrayed. I urge the members of the press and my fans to please consider both sides of the story before maligning my public repertoire and damaging the reputation of this girl. My family stands by me in this tough time where I feel I am victimized for no fault of mine."
The entire episode has divided the netizens to figure out the actual motive behind the alleged kissing video.
Many users are slamming the singer for taking an advantage of the situation while others are defending him saying that the incident took place in the heat of the moment.
Check out their reactions.
Against Him
I do not know what has happened to our old Guru Shishya parampara... This should not be tolerated #papon

— Sanjeev Chawla (@ca_chawla16) February 23, 2018
Because she is a kid, and she hardly understands a good or bad touch. She is unaware of his deed. How on earth can you say "she is cool about it"!!! #papon

— ??‍♀️ विषकन्या ?‍♀️? (@Gwen_Hawkings) February 23, 2018
The awkwardness #Papon shows after getting caught in the video,Explains everything. That's Shameful.

— Bhavesh Jha (@itsmebhavesh_) February 23, 2018
Yes saw that ...
But apalling is the way his lawyer is defending his act saying there was consent from the child??

Yes you are lawyer of #papon but that doesn't give him right to justify this moronic act

— Netra Daoo (@onlyonenetra) February 23, 2018
With Him
To all the ppl out der without even knowing the reality u ppl are just overreacting and criticising him as a psychology student I can understand through wat all trauma Papon and the minor must be going plz understand the difference between love nd harassment. #changeurmindsetguys

— Netra Karale (@karale_netra) February 23, 2018
You stand tall Sir .We all know it was misinterpreted .Media is exaggerating it.they should be considerate for the girl in question too. It's wrongly dragging her as well.?

— Sangita (@sangita0305) February 23, 2018
This are all nonsense, I don't believe in all this, your intentions was clear, you have seen her as your daughter, but people are taking it negatively, this is 21st century, can't I kiss my daughter, sister, mother, aunty, grow up people of India,media are the worst enemy

— Chandan Rajkumar (@ChandanRajkum13) February 23, 2018
Sir pls dont be sorry, you have not done any crime. Pls ????????? We know you very well! We know what kind of person you are! You are a gem and the most kind hearted person/celebrity I know! ?

— Huma Shahper (@shahper_huma) February 23, 2018
Also, Papon's manager Partha Gogoi, in the singer's defense, told a local website guwahatiplus.com, "The act was not meant to hurt the sentiments of any individual, and that it was not wrong in any manner, which is why they see no reason to pull down the video from the official Facebook page of Papon."
Interestingly, the minor's father also defended Papon and said the singer/mentor is like a father figure to his daughter.
"Papon sir is a mentor and a father figure to my daughter and has always encouraged her to pursue her dreams. He doesn't differentiate amongst the children who are here and gives them equal guidance on pursuing their dreams. What you saw in the video is not intentional. It was just a moment of affection that is being portrayed otherwise. I would request and urge the media to not pursue this further," minor's father was quoted as saying by The Quint.
Papon's lawyer Gaurang Narang told India Today in a telecon, "A person will not put anything against him on public domain for anybody to pick it up and make it a complaint. It is very unfortunate, that a lawyer who has done this - maybe it is her mindset. But the fact remains that this kind of compassion, affection should not be constituted. The singer is quite disturbed by the whole incident."