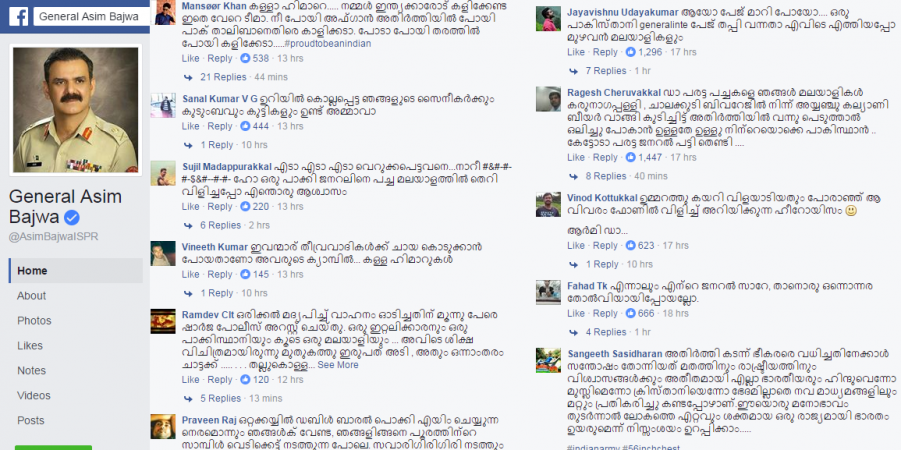 After the Director General of Military Operations (DGMO) Lieutenant General Ranbir Singh announced that the Indian Army carried out surgical strikes against terror launch pads along the Line of Control (LoC) on Wednesday night, Pakistan's Asim Bajwa, General Director of the Inter-Services Public Relations, has come forward slamming the news.
According to one of his latest Facebook post, Bajwa claims that there has been no surgical strike by India. "Instead there had been cross LOC fire initiated and conducted by India which is existential phenomenon. As per rules of engagement same was strongly and befittingly responded by Pakistani troops," General Director posted on his social media page on September 29.
Calling the surgical strike news a fabricated one by India to create media hype, the Pakistani three-star general added: "The notion of surgical strike linked to alleged terrorists bases is an illusion being deliberately generated by India to create false effects.This quest by Indian establishment to create media hype by rebranding cross border fire as surgical strike is fabrication of truth. Pakistan has made it clear that if there is a surgical strike on Pakistani soil, same will be strongly responded."
Soon after his statement, Bajwa's Facebook page was flooded with nasty comments, that too in Malayalam, the language used by Keralites in the Southern state of India. At the time of reporting, more than 13,000 Malayalam comments have been posted on the page of the General. It has to be noted that many celebrities like Maria Sharapova, Mitchell Johnson, Hansika Motwani, Premgi Amaran, had also faced similar verbal onslaught from Keralites on different occasions.
Check out few comments posted on the Facebook page of Asim Bajwa here:
"Hey, do not play with Indians, we are a different team. You go and play at the Afghan border with Pak Talibans. Play with the people of your level bro. #proudtobeanindian."
"Our soldiers who were killed in Uri attack also have families and kids."
"**** Pakistanis, who don't know Malayalam. When you were sent to schools, you learnt to make bombs. How well the Pakistanis were heard speaking Malayalam in the movies War and Love and Kurukshethra. Country fellows."
"Ayyo, am I on a wrong page, I came here searching for the page of a Pakistani general, but I found a lot of Malayalees here."
"Yes, your lordship. We believed what you said. You can say and we will believe that as well. There is no more appeal for whatever you say. Lord, please do tell more as we would like to believe a lot more. NB: Even after getting a big slap on your face, what's the use. "
"This would be the first time in the world's history that a country would be informing another country about attacking them. Indian Army Da."