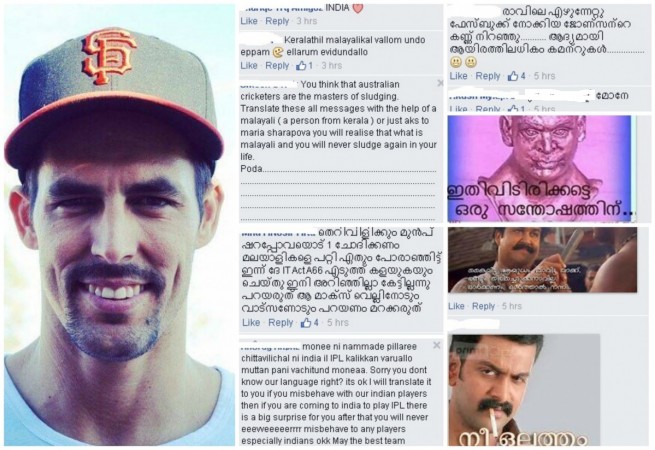 Within a day of repealing the Section 66A of the Information Technology Act by the Supreme Court of India, Malayalis are in a full swing expressing their freedom of speech on the Internet.
Many have posted abusive comments on the Facebook page (not verified) of Australian cricketer Mitchell Johnson, who had vowed to "sledge" India in the World Cup semi-final, to be held on Thursday, 26 March, in Sydney.
Johnson had said that as "part of the game", he will be the sledger-in-chief during the semi-finals against India.
Reacting to this, many have posted abusive comments in Malayalam along with superhit dialogues of the "Mollywood" superstars.
However, Johnson thanked Indians for their advice and comments and said he enjoyed the banter on social media.
Thanks for all the comments and advice guys, really enjoyed the banter over and out

— Mitchell Johnson (@MitchJohnson398) March 25, 2015
Relax people, it's just a game!! Looking forward to playing a hard fought game with my mates at the SCG #gogold#aus#worldcup#game

— Mitchell Johnson (@MitchJohnson398) March 25, 2015
Meanwhile, Indian cricketer Rohit Sharma has reportedly said the team will not mind the sledging by their opposing team and added that he is confident of India's victory in the match.
Malayalam director Jude Anthany Joseph, who is quite active on social media, has also commented on the matter by saying that these type of comments won't affect the foreign players in any way.
Similarly, in July last year, Tennis player Maria Sharapova, who asked "Who is Sachin Tendulkar?", was also attacked by hurt, hammered and humiliated Malayali fans of the cricket legend.