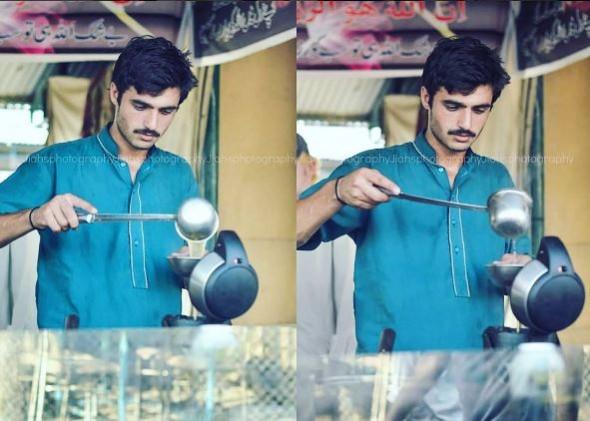 The blue-eyed chaiwala (tea seller) in Pakistan, who became an internet sensation overnight, has bagged a modelling contract, thanks to his viral photo. The chaiwala has been identified as Arshad Khan of Pakistan's Islamabad city.
After the photo went viral on the internet, an online shopping store in Islamabad approached Arshad with a modelling contract. The shopping store also posted several images of the blue-eyed internet sensation and said that he is a "fashion wala" now.
"Chai wala is not more chai wala now he is fashion wala! After www.fitin.pk sponsorship Arshad #chai wala will be working for fitin as a model," the online shopping website Fitin.pk posted on Facebook.
Arshad, who has 17 siblings, is overwhelmed with the massive response he received from around the world. The 18-year-old has a Twitter handle now, which is managed by his team. Arshad took to Twitter to say that he "never thought he will become that famous."
Arshad's blue-eyed photo selling tea went viral on Twitter on Monday evening after @albatrouz_ shared it on social media. Javeria (Jiah Ali) clicked the photo at Itwar Bazaar in Pakistan a few months back, but posted it on her Instagram on Monday.
"I took his picture during a photowalk I attended a few months back, but shared the post recently on Instagram and someone shared it on other social media platform after which it went viral," Jiah told International Business Times, India.
On Tuesday, Jiah posted on her Facebook page saying that she met Arshad Khan again. "Hi guys, so yes I finally managed to meet Arshad Khan today. Yes he knows about his overnight fame and hes very happy about it!
"Arshad is from Mardan, hes 18 years old, his family has been living in Islamabad since 25 years, previously he was a fruit seller at the same sunday market but since 3 months he started working at the tea stall. He would love to accept modelling/acting offers, He found out today about his fame (hes a very shy guy), Message for his fans: Shukria aap sab ka," he posted.