Move over Fawad Khan and Hamza Ali Abbasi, this tea seller (chai wala) from Pakistan's capital city Islamabad is the new internet sensation. A tea seller in Pakistan has sent Twitter users into a frenzy with his good looks, especially his blue eyes.
A photo of the tea seller has gone viral on social media, especially Twitter, with several going crazy over him. The photo of the tea seller was clicked at Itwar Bazaar in Islamabad by photographer Javeria (Jiah Ali). The photographer posted the photo on her Instagram handle after which it went viral on the social media platforms.
When International Business Times, India asked the photographer Jiah about the viral sensation, she said she found him during a photowalk she attended a few months, but posted the photo on her Instagram page recently.
"I took his picture during a photowalk I attended a few months back, but shared the post recently on Instagram and someone shared it on other social media platform after which it went viral," Jiah said.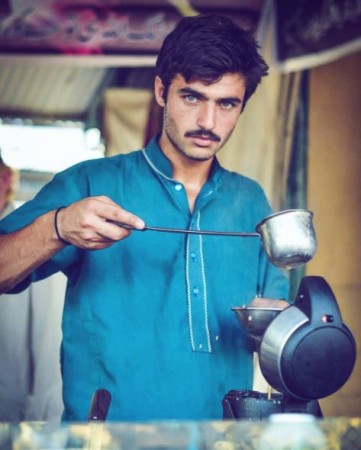 When asked whether she was expecting the photo to go viral on social media, she replied, "Nope, not in a million years. I keep sharing different pictures on Instagram, but I guess the ladies really liked him."
"I am still trying to find him. I saw him at the Sunday market a few months back, so will have to wait for the Sunday market again to meet him. Just hope to meet him," she said when asked whether she met the tea seller again.
Jiah shared the photo on Instagram and it went viral after a Twitter user @albatrouz_ shared it on social media. Jiah later posted a few more images of the tea seller with her watermark, after the photo went viral. "Here are two more pictures of this viral Hot-tea ;) P.s: sorry for the annoying watermark, but I had to since a lot of people are sharing it without credits!" she posted with one of the photos.
Meanwhile, the tea seller's photo has taken the internet by storm and has become the top trend on Twitter in Pakistan with hashtag #ChaiWala.
Here is how the twitterati reacted:
Pakistan has #ChaiWala looking like this. Please dont bomb it, thanks. ?? pic.twitter.com/uK4GhC4dik

— Shruti :) (@shruti_writes) October 17, 2016
when you realize your degree from melbourne university and a good job is useless and a #chaiwala is wooing more girls.

— Hiba ??? (@shh_imasecret) October 17, 2016
Chai is hot but #ChaiWala is hotter ;-)

We are now on Instagram. Search #KhulaTazaad pic.twitter.com/iGWTzpnzp9

— کھلا تضاد (@KhulaTazaad_) October 17, 2016
Dear girls humein to momina mili nae magar tm thori se himmat karo to tmhe #ChaiWala zaror mil jaye ga

— باسط (@Holaitsbasit) October 17, 2016
50 shades of chai wala from islamabad.#chaiwala #different_edition ? pic.twitter.com/qTLLtUwGTT

— Ğ. (@Nazo0_) October 17, 2016
He probably has no idea he's on the top twitter trend right now. ??#ChaiWala

— Zainab (@ZainabK109) October 17, 2016
Clearly #India-#Pakistan tensions have eased; a handsome Islamabad tea-seller is the top-trending topic in the region (& world!). #ChaiWala

— Michael Kugelman (@MichaelKugelman) October 17, 2016
Every girl is going gaga over this #ChaiWala and once he sends rishta for you I think no girl would marry him

— KJ (@ItsMahah) October 17, 2016
Islamabad's itwar bazar Chai Wala broke the internet today. #Chaiwala is NOW Twitter Top Trend in Pakistan. #ViralinPakistan pic.twitter.com/byMkwvDQVg

— Ihtisham ul Haq (@iihtishamm) October 17, 2016
Thank you guys for so much love. I'm now on Twitter. #ChaiWala ❤ pic.twitter.com/70apAU86aF

— Chai Wala ☕ (@ItsChaiWala) October 17, 2016
National Crush of Girls #ChaiWala pic.twitter.com/QMLNGCUJ24

— AK- NIAZI (@AwaisNiaziISF) October 17, 2016