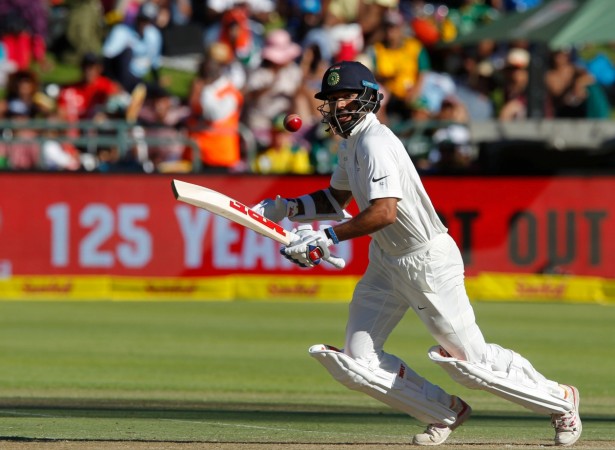 India's opening batsman Shikhar Dhawan has been showered with high praise and love on the social media from Pakistani fans.
Shikhar, who was dropped from the Indian team for the second Test against South Africa recently, received a lot of appreciation from Pakistan supporters.
Also read: Ask Malik to wear helmet, Twitterati tell Sania
The reason for this is that the Delhi left-hander enquired and wished Shoaib Malik to get fit after he was hit on the head during an One Day International against New Zealand.
Also read: After series loss, Shastri says, "Don't laugh"
During the fourth ODI in Hamilton on Tuesday (January 16), Malik received a blow on his head as he was batting without a helmet. The right-hander was hit by a Kiwi fielder as he threw the ball towards the wicketkeeper.
Malik, who was dismissed for just six runs, did not field during the New Zealand innings as he suffered from "delayed concussion signs".
"Shoaib was assessed by the match doctor and myself. He did not have any symptoms of a concussion and was able to carry on playing. After getting out, he was reassessed and was showing delayed concussion signs. He is doing well and is resting," Pakistan team's physiotherapist VB Singh was quoted as saying.
The 35-year-old missed today's fifth and final ODI. Pakistan lost the game and with that were whitewashed 0-5 by the home side.
Shikhar took to the micro-blogging website Twitter to send his wishes to Malik. He wrote, "Janab @realshoaibmalik, hope you're recovering well and will be fit soon to be back on the field! Take care."
This message was liked by more than 5,000 Twitter users. A lot of Pakistan fans replied to Shikhar thanking him for caring for their all-rounder.
Malik, yesterday (January 17), tweeted that he was "feeling great". He wrote, "Alhumdulilah I'm feeling great, the ball that hit me is in critical condition tho. Thank u dosto for all the wishes, messages, and tweets. Please remember me in your Duas."
Here are some of the reactions from Pakistan to Shikhar's tweet
Janab @realshoaibmalik, hope you're recovering well and will be fit soon to be back on the field! Take care?☺

— Shikhar Dhawan (@SDhawan25) January 18, 2018
Alhumdulilah I'm feeling great, the ball that hit me is in critical condition tho ?

Thank u dosto for all the wishes, messages, and tweets. Please remember me in your Duas ??

— Shoaib Malik (@realshoaibmalik) January 17, 2018
Wahhh Great sportsman spirit Tusi great ho g Dhawan bhai @SDhawan25..
respect for you from??

— Kashif Gondal (@kashifgondal29) January 18, 2018
great... gabbar paji

— Arshid Aziz Bhat (@ArshidAzizBhat1) January 18, 2018
Thanku dhawan sb for tweeting about my hero @realshoaibmalik . We all praying for him, he will be fit very soon and will be back in field in shaa allah. Thanku once again and best of luck

— Ahmad Masood (@SyedAhmadMasood) January 18, 2018
Pak india player's ke yahe understanding dono nation k liya acha hy

— Malik shahzaib (@malikshahzaib94) January 18, 2018
That's why i always liked @SDhawan25 he is a true gentleman

— AQK (@iam_aqk) January 18, 2018
thank you sir lots of respect from pakistann. v love u sir

— abdulsattarkhan (@asattarkhan05) January 19, 2018
Great Gesture @SDhawan25 wish you best of your bright Future.

— Afaque Ahmed Khan (@Mirpurkhas871) January 18, 2018
Good Gesture @SDhawan25 and @realshoaibmalik Good to see U guys caring for eachother. We must realize India & Pak are part of Same land & divided by English to create a wedge & do their Arms Business, Vich they r doing.

— Iftikhar Mughal (@iemiftikhar) January 18, 2018
Very nice real sportsmanship spirit only that's the way we can bring our nations closer.

— Zeeshan Mehmood (@zeeshan786361) January 18, 2018
Just show the world we are also best friend...

— Atiq UR Rehman (@AtiqURR21968919) January 18, 2018