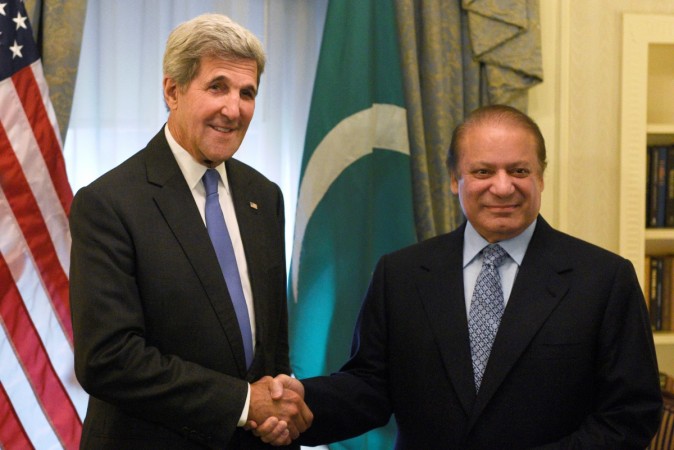 Pakistan on Wednesday reportedly refused to comply with the request by the United States to limit its nuclear programme. The development comes just a couple of days after Pakistan's Defence Minister Khawaja M Asif said in an interview to Pakistani channel Geo TV's Saleem Safi that the country would not think twice before exercising nuclear option if there was any threat against it.
Pakistan's permanent representative to the United Nations (UN), Maleeha Lodhi, was quoted by Pakistani media as saying in New York that the country's nuclear programme would not be restricted. She also said that Pakistani Prime Minister Nawaz Sharif had, in his interaction with US Secretary of State John Kerry, impressed upon him that India should also be held to the standards being set for Pakistan.
Pakistan's Foreign Secretary Aizaz Chaudhry, who addressed the press conference with Lodhi, said "No other state has acted against terrorism as much as Pakistan has." This, despite Pakistan once trying to say there was a good Taliban and a bad Taliban, and the world's most wanted terrorist Osama Bin Laden being found hiding on its soil — and near an army base — when he was neutralised by the United States.
It may be noted that US State Department Deputy Spokesperson John Toner had, after the Kerry-Sharif meet, said of Pakistan's efforts in combating terrorism: "We've seen some progress. We want to see more, and I think moving forward we'll just continue to work closely and try to encourage greater counterterrorism cooperation with Pakistan, but also within the region."
Meanwhile, a group of lawyers in the US introduced a bill in the US House of Representatives on Tuesday to designate Pakistan as a state sponsor of terrorism. The "Pakistan State Sponsor of Terrorism Designation Act" was introduced by Ted Poe and Democratic Party's Congressman Dana Rohrabacher. Rohrabacher is a key member of the congressional committee on terrorism.
"From harbouring Osama Bin Laden to its cosy relationship with the Haqqani network, there is more than enough evidence to determine whose side Pakistan is on in the War on Terror. And it's not America's," Poe said.