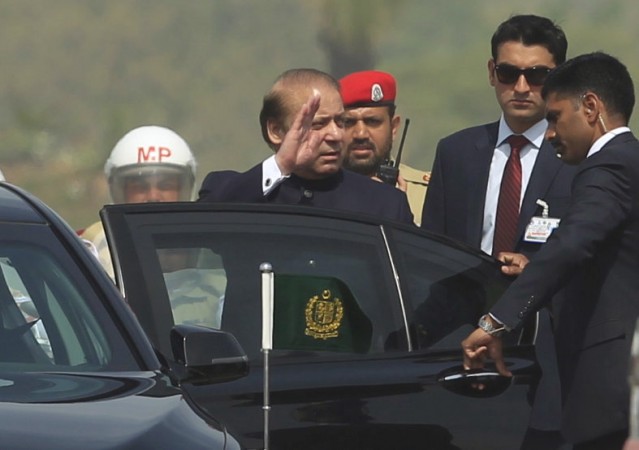 Pakistan Prime Minister Nawaz Sharif on Friday said that the country would observe July 19 as 'Black Day' to protest against the killings in Kashmir, a decision India described as a "continued attempt by Pakistan to interfere in our internal matters".
At a special meeting of his cabinet to discuss the Kashmir issue, Sharif called the killing of Hizbul Mujahideen's self-styled commander Burhan Wani "Indian barbarism." The proposal to observe July 19 as a "Black Day" was made during this meeting, and accepted by the Cabinet, reported Radio Pakistan.
Sharif reiterated, during the course of the meeting, Pakistan's stand to extend "moral, political and diplomatic support for Kashmiris in their just struggle for right to self-determination," while describing the "movement of Kashmiris as a movement of freedom".
Sharif was quoted by HT as saying: "Indian brutalities will give impetus to the freedom struggle... Kashmiri people will get their right to self-determination for which the whole Pakistani nation is standing behind them." He added that Indian soldiers "could not suppress the struggle of Kashmiris".
He also asked relevant departments of his government to raise the issue of Jammu and Kashmir "atrocities" at international platforms and also, much to India's dismay, referred to Wani as a "martyr of (the) independence movement."
In response, India's Ministry of External Affairs (MEA) official spokesperson Vikas Swarup tweeted that the country was dismayed at the continued attempts by Pakistan to interfere in its internal matters.
Our response to the special meeting of Cabinet of Pakistan today on recent developments in the Indian state of J&K pic.twitter.com/FcxlMUuwvF

— Vikas Swarup (@MEAIndia) July 15, 2016
Meanwhile, Pakistan's Defence Minister Khawaja M Asif posted a tweet which drew comparisons between the Kashmir situation and the 2002 Gujarat riots.
Massacre & genocide in Indian Occupied Kashmir is extension & re enactment of ethnic cleansing started by Modi in Gujrat.. — Khawaja M. Asif (@KhawajaMAsif) July 15, 2016
Tussle at the U.N.
Pakistan has, meanwhile, also demanded an independent inquiry into the Kashmir killings with the backing of the United Nations, describing the condition in the state a "grave threat to peace and security".
Maleeha Lodhi, Pakistan's envoy to the UN, had a meeting with Under Secretary General Edmond Mullet and the Chef de Cabinet of UN Secretary General Ban Ki-Moon. She pushed for an investigation into the Kashmir violence, according to a statement released by the Pakistani Mission to the UN on Thursday, the Indian Express reported.
The statement also said the Mullet was worried about the situation in Jammu and Kashmir and would moderate peace talks between the two countries if they accept his good offices.
The statements come after India lashed out at Pakistan for misusing the UN platform to take advantage of the violence in Jammu and Kashmir, besides providing support to terrorist organisations.
Related