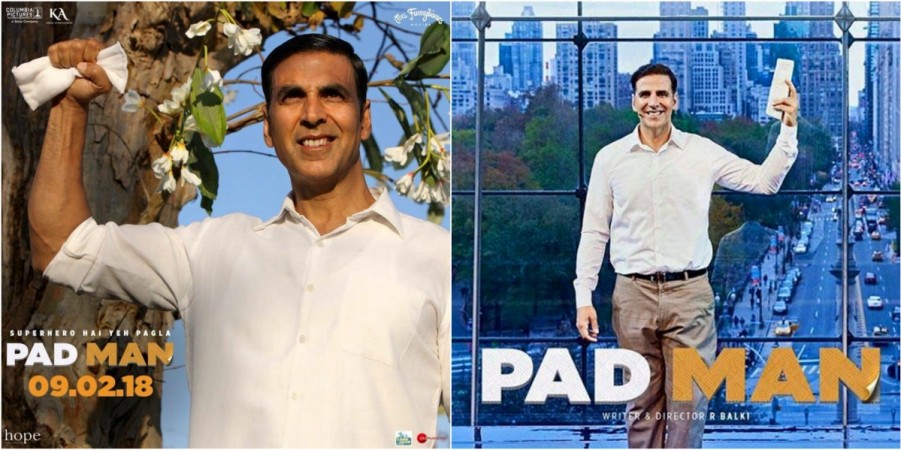 Akshay Kumar's PadMan has released and is receiving rave reviews from all quarters. As the movie is set to rule the box office, a legal trouble has come on its way. A young writer has reportedly filed a complaint against Akshay Kumar and PadMan producers for plagiarism.
A young writer named Ripu Daman Jaiswal claimed that PadMan is a copy of his draft that he previously sent to Dharma Productions. The Tribune was the first publication to take forward the writer's allegations on PadMan to the world.
Jaiswal's trouble came to light when he took it to Facebook and in a series of posts and screenshots of e-mails sent to Ryan Stephen at Dharma Production, he claimed that he was not given credit.
After watching the trailer last year, he shared the screenshots on Facebook and narrated his story. He wrote that he has filed an FIR but Jaiswal has no money to hire a lawyer. He went on to point out similarities and difference that his script and PadMan have.
You have to give your life to get justice in india. That's when they take you seriously. That's the only way left.

— Ripu Daman Jaiswal (@Shivashorcrux) January 20, 2018
He said the trailer showed Akshay giving sanitary napkin to his sister which Jaiswal had written in his script. As PadMan is based on Arunachalum Murugunatham life, he didn't have a sister, but PadMan included the fiction.
"The similarities are not only based on the concept but also my fictional scenes. If you see the trailer, there's a scene where Akshay Kumar gives the sanitary pad to his sister – that's my fictional scene; something I created out of the figment of my imagination," Tribune quoted the writer as saying.
"In reality, Murugunatham does not have a sister. So, if you are writing a film based on his life, how can you use fictional scenes which have previously been registered by me?" he questioned.
"There are also similarities within the plot. In my script, the lead character's wife falls pregnant and due to some complications, she has to be taken to the hospital. I saw that same scene in the making of PadMan, online."
Intermission of PadMan. 11 scenes has been copied from my script uptil now and even one of the character. That's it. I am definitely going to court.

— Ripu Daman Jaiswal (@Shivashorcrux) February 9, 2018
I remember I was in the library when I wrote this dialogue and was truly elated. Honestly, I surprised myself that day. Tell me, how on earth can you steal someone's dialogue?
This is unfair.

(Amitabh Bachchan quoted this dialogue in PadMan.) pic.twitter.com/9mQN3Jlt8T

— Ripu Daman Jaiswal (@Shivashorcrux) February 10, 2018
Talking about the difference, he said, "The Sonam Kapoor character in my plot is a journalist, I think that's the only thing they have changed and made her a medical student or something."
He told Tribune, "I went to the association and told them that my work has been copied but they said I do not have enough evidence."
He went on to claim that someone is yet to contact him following the FIR he filed at a local police station on January 23, 2018. "The senior police inspector told me that they will do an investigation and will revert back to me via phone call. I am still waiting for that call."