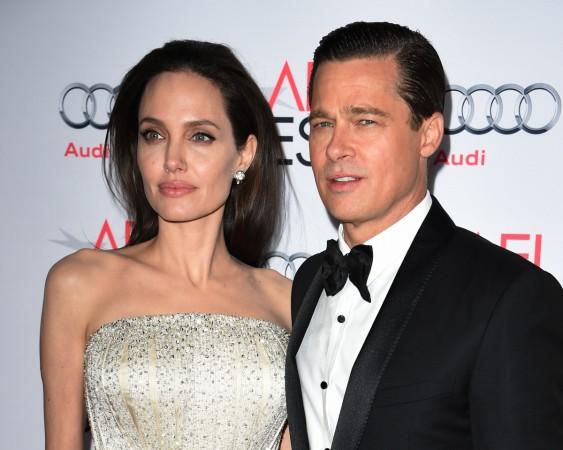 Being a single parent is hard enough without adding six kids to the mix accompanied by a thriving movie career. Angelina Jolie is reportedly feeling the pressure with juggling her job and brood of kids without the help of ex Brad Pitt.
When the 'Mr. and Mrs. Smith' actors split in September 2016, Jolie demanded and got full custody of their kids. Meanwhile, Pitt is allowed to spend limited time with the children during court-ordered supervised visits. In a report published by Hollywood Life, Angelina Jolie is extremely overwhelmed by the whole situation. "Angelina is an emotional roller coaster after her divorce from Brad. One week she feels completely over him and the next week she genuinely misses the father of her children. She is desperately trying to keep it all together as she raises the kids, and continues to work on her career," a source close to the actress has revealed.
"She never imagined she would be in her 40's with three failed marriages and a single parent to 6 kids. She often fights back feeling overwhelmed with her life and all of her daily responsibilities. It was a lot easier when she had Brad's help daily and so she misses him dearly right now. Even though the divorce was her choice, she has a hard time not being mad at him for no longer being around," our insider adds.
Following the year after Jolie filed for divorce from Pitt, the actress was on a hiatus from acting in order to focus on her public and rather nasty custody battle with her former husband. However, things took a change in 2018 with Jolie moving to London for the summer to film the sequel to 'Maleficent'. Currently, the mother-of-six is in LA working on fantasy film, 'Come Away' which has her playing the role of mother to Peter Pan and Alice in Wonderland.
But, the devoted mom still makes time for her own children and has been spotted on numerous outings with the kids.
There were also reports about the actress questioning if she made the right decision to let Brad go. A source had revealed, "The further Angelina [Jolie] gets from their split, the more she thinks about Brad [Pitt] and misses having him in her life on a daily basis. Lately, there are times when Angelina feels major regrets over ending things with Brad. There are days she can't help but question if she made the right choices for her family. The more her anger at him fades the more she misses him."
On the other hand, Brad Pitt has reportedly well and truly moved on with absolutely no desire to reunite with his former wife. "Brad couldn't care less about Angelina supposedly missing him, or regretting filing for divorce, that relationship is well and truly over as far as he's concerned, and Brad has zero desire to revisit it, and give it a second shot," a source told Hollywood Life.