Oppo is all set to make the big debut in India, which will mark its foray into the premium smartphone segment in the same league as Samsung and Apple. The lauded Find X smartphone sports a refreshing design and will be launched in India on July 12 to settle the curiosity about the phone's pricing in the country.
India is already poised to take over the US to become the second largest smartphone market after China, making it an important playground for emerging and established companies.
Oppo has only focused on the mid-range smartphone segment, but the Find X will change people's perspective towards the brand in becoming a flagship player.
But the biggest question is, can Oppo succeed in its new attempt with brands like OnePlus, Honor and others trying to dominate the premium smartphone space with their competitively-priced flagships?
Following its July 12 release, Oppo Find X is expected to be available in India alongside other international markets sometime in August. India, which is touted as a budget-conscious market, will pose a major hurdle for Oppo's Find X as the most sophisticated design we've ever seen won't come cheap.
Oppo Find X launch in China last month revealed the handset's premium pricing. The base model with 8GB RAM and 128GB storage is priced at ¥4,999, which we are expecting to be launched in India next week. But Oppo also has the 8GB + 256GB variant with Super VOOC flash charging tech and it is priced at ¥5,999, along with a Lamborghini Edition costing a staggering ¥9,999.
Even if we convert the international pricing as it is, the Find X is likely to share the space with the latest iPhones and Galaxies. The base model could easily retail above Rs 50,000 at launch in India, while the Super Flash Edition, if launched, could sell for around Rs 65,000.
Even if Oppo decides to launch the Lamborghini Edition in India, it will be available in limited stocks and be priced well over Rs 1 lakh. This begs the question, will buyers go for the Find X Lamborghini Edition or settle for the high-end iPhone X. We won't know until the actual sales begin in the country.
Wow factors
Oppo Find X easily makes for one of the best-looking phones today. The Chinese smartphone maker could use that to its advantage. The brilliant design will make consumers fall in love with the phone at first sight.
Though the best part about the Oppo FInd X design has to be the smooth and shiny metal back. It has no holes for cameras and a full display on the front has no disturbance of the notch.
Simply put, Oppo Find X flaunts the best design we've seen so far.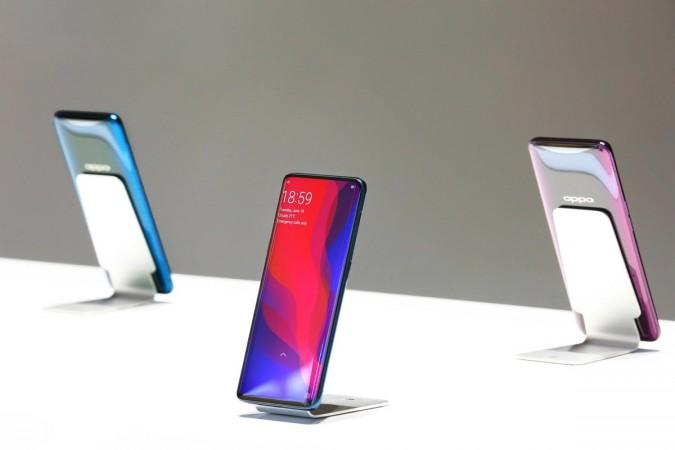 Unlike many phones with notched displays, Oppo Find X offers a 6.4-inch FHD+ AMOLED display with the highest 93.8 percent screen-to-body ratio. The sliding camera tray meticulously hides the front and back cameras along with facial recognition sensors, and an earpiece.
If the pricing surprises you, here's what it has to offer in return:
Qualcomm Snapdragon 845 processor
16MP + 20MP dual camera with OIS, LED flash and AI
25MP front camera with f/2.0 aperture, flood illuminator, ranging sensor IR camera, receiver, Dot projector for the facial recognition system
3,730mAh battery with VOOC flash charging (Super VOOC is available on 256GB and Lamborghini variants)
Dual SIM card support, 4G VoLTE, USB Type-C, DSP module, NXP noise reduction
Beautiful Bordeaux Red and Glacier Blue
Oppo has also ditched the fingerprint scanner on its Find X in favour of its capable 3D facial scanning feature. If you are worried about its convenience and speed, the module housing the necessary sensors slides out in 0.5 seconds and slides back in after unlocking the device.
Imminent threats
Even with such perfection, Oppo Find X will have a tough fight in India, and we say this without even considering the iPhone X or the Samsung Galaxy S9+ as its possible competitors. Oppo might have to present its case against the likes of OnePlus 6 and Asus Zenfone 5Z in case of specs and price comparison.
But if we have to look at it from an overall standpoint, Find X will be pitted against the iPhone X at its best. We are keen to see if the Find X can win over Apple loyalists or even Samsung fans in the premium segment and convince potential buyers of OnePlus 6 or Asus Zenfone 5Z to spend almost twice as much for its new flagship.
Stay tuned for updates.