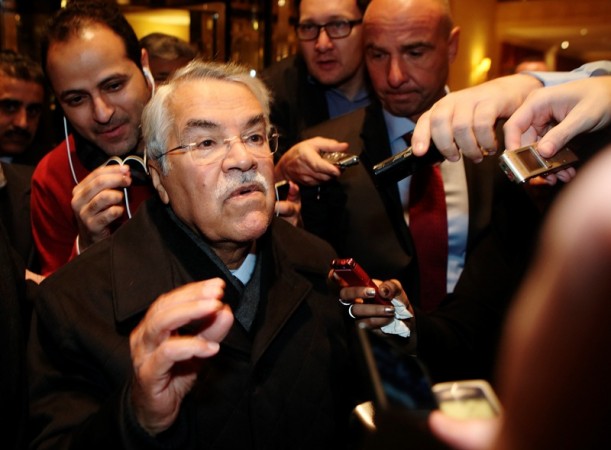 Just a day before the Organization of the Petroleum Exporting Countries (OPEC) meets to discuss the oversupply of oil in the global market, Saudi Arabia's oil minister suggested that the group will probably not cut oil output.
Ahead of the OPEC's meeting in Vinenna, Austria, on Thursday, Ali al-Naimi, the oil minister said that he expects the market to eventually stabilize on its own and doesn't see the need for any kind of production cuts by the OPEC.
"The GCC reached a consensus. We are very confident that OPEC will have a unified position," Ali al-Naimi said referring to the Gulf Cooperation Council that includes Qatar, Saudi Arabia, Kuwait and the United Arab Emirates, according to Reuters.
Another OPEC delegate from the Gulf also confirmed to Reuters that the organization had decided that it will make no changes to current production levels.
This is the first time that Saudi Arabia has broken its silence on the oil issue. It has remained reticent throughout the past week about what it plans to do when the OPEC meets. However, it asserted earlier that if at all a cut was decided upon, all the members would have to abide by it.
Previously it was speculated that smaller economies like Venezuela and Iran were more likely to pressurize Saudi Arabia to agree to a production cut. But considering Saudi Arabia's stance on the output cuts, the other members of OPEC will not be happy.
The Iranian oil minister, Bijan Zanganeh, cleared the air on some of those speculations.
"We didn't discuss only about a cut but we discussed the market situation," Zanganeh was quoted by The Wall Street Journal as saying following a bilateral meeting with Saudi Arabia.
Previously, Zanganeh had said that the OPEC should sanction a production cut on the bigger producers. But now that delegates confirm a consensus among the members, the OPEC is confident about the outcome of the meeting.
OPEC member Suhail bin Mohammed al-Mazroui, the oil minister of the UAE, said that there was no need for the OPEC to panic because they had seen oil prices "way lower."
"The oversupply came from the evolution of the unconventional oil production ... I think everyone needs to play a role in balancing the market, not OPEC unilaterally," he explained, according to Reuters.
While the OPEC delegates say that the market will repair itself, Brent Crude prices slid 0.8 percent and US crude also closed down 40 cents at $73.69 a barrel on Wednesday. Oil prices have slumped 30 percent since June and experts predict prices to fall to $60 a barrel, output cut notwithstanding.