Average wholesale prices of onions fell almost 35 percent after the Income Tax (I-T) department carried out surveys and searches in the offices, godowns and homes of seven onion traders in Nashik.
The average wholesale onion price on Thursday declined to Rs 900 per quintal from Rs 1,400 per quintal on Wednesday at India's largest wholesale onion market—Lasalgaon Agriculture Produce Market Committee (APMC).
The minimum wholesale prices were recorded at Rs 500 per quintal and maximum was Rs 1,331 per quintal, according to a Times of India report.
Two of the seven traders who were raided, belonged from Lasalgaon. These traders have the capacity to buy 30 percent of the total arrivals in the market.
The sudden crackdown of the I-T department created panic among the onion traders leading to an onion price crash. Some of the farmers stopped onion auction and refused to sell their produce at such a low price, according to the Chairman at Lasalgaon APMC Jaydatta Holkar.
This attack by the I-T department came right after the government, last month, had decided to enable the states and Union territories to take action against dealers in onions who engage in speculative trading, hoarding and profiteering.
On August 25, the Centre had released a statement in which it had decided to impose stock limits on onions and undertake various other measures in this regard. This decision came against the backdrop of onions prices surging abnormally despite the supply of onions in the market was better in 2017 than last year, during the same period.
According to the reports, last month, onion prices surged more than two-fold to Rs 25 per kilogram at Lasalgaon, whereas the maximum wholesale price of onions stood at Rs 9.20 per kilogram in the year-ago period in the same market.
This could be due to the traders hoarding onions besides tight supply and fall in output of the crop.
As per all India average retail price, onion prices have increased from Rs 15 per kg to Rs 28.94 per kg until last month.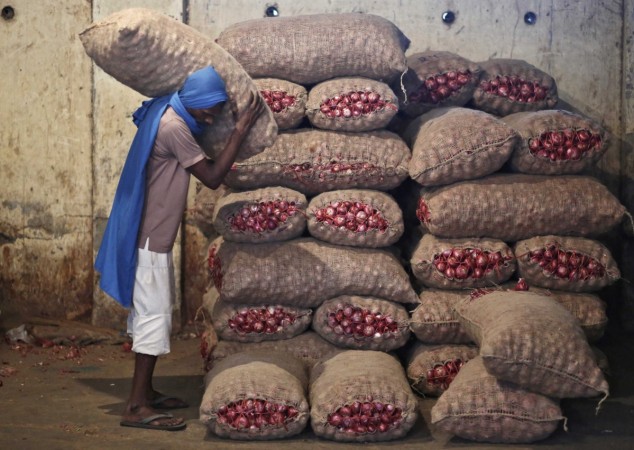 However, in some city's retail markets, onion prices increased from Rs 10 to Rs 30 per kg in the past two-three months whereas retail prices in major cities had touched Rs 40-50 per kg, across the nation.
Nonetheless, the recent drop of onion prices in Lasalgaon could suggest that prices of the crop will fall in the other parts of the country as well.
Recently, an India Today investigation had found that almost an entire food supply chain in Madhya Pradesh was involved in rigging state-run auctions of onions and selling them in bulk to the private traders at an much cheaper rates.