What is it that you look for in a smartphone while planning to upgrade? Good design, great camera, seamless performance and everything to be state-of-the-art and a price tag that justifies it all. For that reason, we've seen many phones win over consumers hearts over the years, but recent times have changed and we have several new brands ready to put consumer's demands before their planned executions. If we have to name one such brand, OnePlus easily warrants an attention.
In just a matter of few years, OnePlus managed to make quite a name for itself and it holds a record market share in the premium category in India. Quite impressive, but nothing was pure luck or sheer coincidence. In the initial years, OnePlus suffered like any startup, but it learned from its mistakes and thrived to be better. The end result, we now have the OnePlus 6 - the company's finest and best flagship smartphone ready to take on the big leagues.
We already reviewed the OnePlus 6 when it was launched earlier this year and found it to be quite the charmer in the sub-Rs 40,000 price category. Since then the market has changed further as we see phones like Poco F1 steal the thunder. Now the bigger question we face is whether OnePlus 6 stands a chance in this fiercely competitive market. To answer that, we decided to pen down our experience with the OnePlus 6 after using it over a longer period of time, which gives potential buyers insights on whether OnePlus 6 has what it needs to be your next phone.
After having used OnePlus 6 as my daily driver for a few months, I'm in a position to judge this phone's true capability. I had to change phones during the course of my long-term review but managed to revert back to OnePlus 6 to continue the in-depth testing process.
In my previous review of the phone, I covered various OnePlus 6 features but it's time to go deeper into some things I learned during my extended testing. OnePlus 6 is still one of the most beautiful looking phones out there, so if you're looking for great ergonomics and trendy design, you cannot go wrong with the 6.
During the course of the review, OnePlus 6 received several software updates, enhancing the phone's performance, camera clarity and adding new features. The camera got a lot better since the time it was launched through software updates, including the latest Android 9 Pie based OxygenOS 9. In my opinion, OxygenOS on Pie is the best software combination I've seen in a while. It one-ups the stock Android experience by giving unique customisations that even Google doesn't offer in its Pixel or Nexus phones.

I also learned that OnePlus 6 has one of the best portrait-taking capabilities, delivers impressive results in well-lit areas, and low-light imaging is not bad at all. Overall, it can easily be regarded as an impressive camera phone in its price range.
Sometimes it is not the abundance of features that are added to the phone, but also knowing what not to add plays a crucial role in the user experience. I'm so glad OnePlus doesn't follow the herd in offering stage light or custom background light settings under portrait or unnecessary filters, which frankly require more refining in other budget flagship phones. Although I would have loved to use AR stickers in the 6, I don't miss it too much. It has all the features users will need, including slow-motion video, pro mode, time-lapse, panorama and Google Lens. Simplicity is the best form of sophistication and OnePlus 6 strikes the perfect balance.
Check out some portrait camera samples below:
Check out some raw images shot on OnePlus 6 below:
More than the camera and design, I loved how OnePlus 6 handled any task you throw at it. I literally had three high-graphics games installed on the phone, including Asphalt 9, Fortnite and PUBG Mobile. Most of my PUBG Mobile reviews came from playing the game on OnePlus 6 and Google Pixel 2 XL (PUBG Mobile performance on Pixel 2 XL is quite impressive if I must add).
PUBG Mobile is becoming a gold standard to test any phone's capabilities. Benchmarking tests often show the necessary numbers but end users want real-world results and what better way than to play PUBG Mobile on a loop. I must say, OnePlus 6 handled extended gaming sessions on OnePlus 6 like a pro, which even convinced one of my friends using the aging iPhone 7 Plus to switch to the 6. Yes, that impressive.
In order to push the limits on OnePlus 6, which comes with Snapdragon 845 and 8GB DDR4 RAM, I bumped up the graphics to HDR on PUBG Mobile and using GFX tool I even increased the frame rate to 60fps. I frankly had my doubts, but the way OnePlus 6 handled PUBG at 60fps and best graphics settings won me over. I would also recommend PUBG Mobile players to do the same to experience the game in a whole new setting.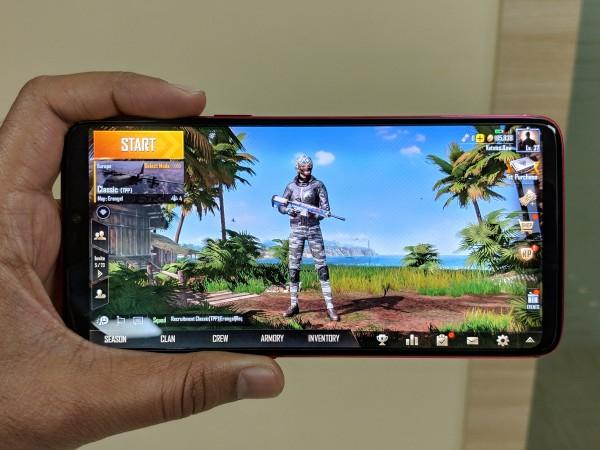 If you're into mobile gaming, OnePlus 6 is hands-down the best recommendation no matter what price range you're considering.
But gaming is not all that is handled the best way possible. OnePlus 6 runs Android 8.1 Oreo-based OxygenOS 5.1 (unless you upgraded to Android Pie), which in my opinion beats every other custom ROM. The UI is efficient, lag-free and doesn't sway too far off stock Android. I absolutely love stock Android, but OxygenOS is easily the only other ROM I find extremely comfortable to use. You can change themes, use app drawer, customise notifications, add custom gestures, and so much more without having to go looking for options buried deep inside settings. Pretty straightforward.
As I had already mentioned in my previous review, OnePlus 6 has one of the best battery solutions. I hardly felt that OnePlus 6's battery needed improvement - and it's not because the battery backup, which is quite average. But what makes the OnePlus 6 extraordinary is the Dash Charge. I would regularly put the phone to charge before a shower and by the time I'm ready to leave, the phone has enough charge to push me through a busy day. Fast charging should become a standard in all phones until there comes a time when low-battery issues are non-existent.
I was able to get up to 8 hours of battery on the OnePlus 6 with mixed usage including calls, messaging (WhatsApp, Slack, Gtalk), social media browsing, video streaming, music and GPS. Do note that 4G would be always on during my reviews as it has become a norm for most users. Even when the battery reaches low-power mode, I would keep the internet on and still manage to get an extra hour or two depending on how I use.
But when I would play PUBG Mobile along with my regular use, the battery would last me around 6 hours with the balanced graphics setting. Bumping up the graphics to 60fps would give me 2-4 exhilarating gaming sessions with each game lasting about 20 minutes. You can always connect your Dash charger and continue playing.
And in case of binge-watching TV shows, as anyone would on their phones courtesy of Netflix and Amazon Prime Video and cheap data rates, I could get 5 hours of use. This is pretty standard for a phone with its specs and OnePlus makes up by integrating the best fast charging solution we have on commercial smartphones (I literally cannot stop appreciating Dash despite its legally controversial name).
It also goes without saying that OnePlus 6 has the best-in-class fingerprint scanner and face unlock technology, which works flawlessly. There is, however, one limitation and it is that the phone wouldn't recognise wet fingers. This isn't a deal breaker.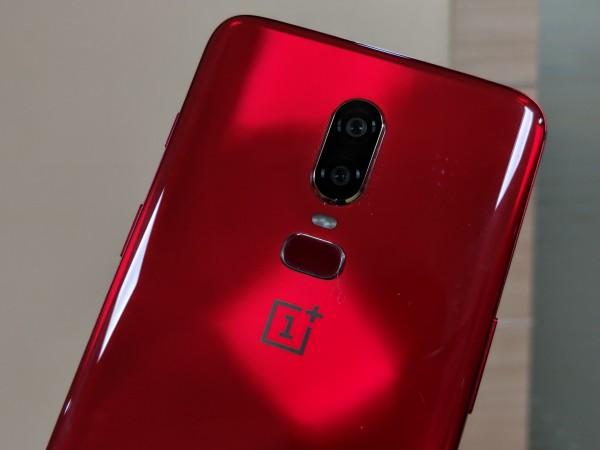 With so many great things, does it mean OnePlus 6 is the perfect smartphone you'll ever need? Well, every electronic gadget has its flaws and OnePlus 6 is no different. Don't be shocked. Some issues I faced with my OnePlus 6 unit included rare instances of a non-responsive screen. I could literally count the occasions when the phone froze on me, but it's nothing you cannot fix by closing the app and restarting it again. I have seen phones that would require a hard power shut down in order to function normally, but OnePlus 6 is not one of them.
OnePlus 6 does heat in some instances, but it has to be an extreme situation. At the time when I'm playing PUBG Mobile at 60fps and charging the phone simultaneously, I could feel the heat from the glass panel at the back. Solution - don't play while charging the phone and you'll be good.
Finally, OnePlus 6's display doesn't look as great as other flagships that are priced twice as much. The AMOLED Full HD+ screen is good enough for your daily usage, but when comparing it against other 2018 flagships with OLED panels I felt the need for an improvement. Since I was using the red edition for the longest time, I did not have the problem of fingerprint smudges spoiling the rear design of the phone. But I'm pretty sure, the Midnight Black edition users would say otherwise.
Verdict
Addressing the elephant in the room, OnePlus 6 is surely worthy of its price and going for the phone won't put you off or in any way disappoint you. Sure, there are many phones out there, some even cheaper, but OnePlus 6 delivers the experience, which is profound. Features like Dash Charge, OxygenOS, and sturdy hardware despite using glass makes OnePlus 6 one of its kind.
In fact, OnePlus has established a solid brand recognition in India, which is reflected in the after-sales market as well. Selling your OnePlus 6 will get you a better resale value as compared to other phones in the same price range.
OnePlus 6 pros outweigh its cons, making it a suitable phone for those who are planning to upgrade anytime soon.
Honorary mention
Hold your horses a minute. OnePlus 6 is certainly quite convincing, but it wouldn't be fair if I did not remind you of the arrival of OnePlus 6T in the coming weeks. There are several rumours that have me excited about OnePlus 6T, so if you have some time in hand before you go for an upgrade, OnePlus 6T could be the one for you. If rumours are true, you're looking at triple cameras, in-display fingerprint scanner, and an even smaller notch. As mentioned, if rumours are true.