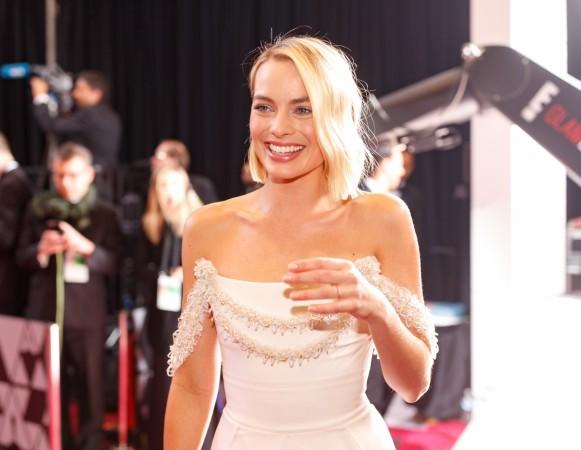 Margot Robbie has shared the first picture of herself playing Sharon Tate from the Quentin Tarantino's upcoming western film, Once Upon a Time in Hollywood. Prior to her, Leonardo DiCaprio and Brad Pitt amazed everyone from their 60s looks when the Revenant movie star shared a picture from the movie set.
In Tarantino's Once Upon a Time in Hollywood, Robbie will be seen playing the role of Sharon Tate. The Academy Award-nominated actress shared the picture on her Instagram handle in which she is seen sporting a black long-sleeved turtleneck, accompanied with a white skirt including white leather boots.
Once Upon a Time in Hollywood is based on the backdrop of Sharon Tate murder. The model-actress was married to award-winning director Roman Polanski. On August 8, 1969, Sharon Tate, who was just two weeks away from giving birth, was spending some quality time with her friends Jay Sebring, Wojciech Frykowski, and Abigail Folger. Shortly after midnight, everyone in her residence was brutally murdered by the members of Charles Manson's "family."
According to Deadline, prior to this, Sharon Tate's sister, Debra Tate, was against the making of a film that will showcase the murder of her sister. Debra has spoken against Quentin Tarantino's Manson Family movie project and other competing films that will feature the last days of her late sister. However, Debra has now given her support to Tarantino's production.
"I have found filmmakers who are interested in the life story of my sister Sharon. Other projects have been a real source of pain in their insensitivity and gross exploitation of my sister," Debra added.
Meanwhile, DiCaprio and Pitt will portray the role of two best friends who are trying their best to enter the entertainment industry. As Tarantino himself described, Pitt and DiCaprio, are struggling to make a name of themselves "at the height of hippie Hollywood."
After making films like Pulp Fiction and Inglorious Basterds, Once Upon a Time in Hollywood would be Quentin Tarantino's ninth feature film. Alongside Brad Pitt, Leonardo DiCaprio, and Margot Robbie, the upcoming film will feature Al Pacino, Damian Lewis, Dakota Fanning, and others.
Once Upon a Time in Hollywood is slated to release on July 26, 2019, just a few days before the 50th death anniversary of the Sharon Tate's murder.