Actor Christian Bale is better known for his unbelievable body transformation in various movies including The Machinist, Batman Begins and American Hustle. But his recent photo proves that the actor can go beyond everything just to add more authenticity to his character.
Also read: Christian Bale's Dick Cheney look REVEALED
Bale has been piling on the pounds for the past couple of months to portray the former US vice president Dick Cheney in the forthcoming biopic Backseat.
A few new set photos have surfaced on Imgur, an online photo-sharing platform, featuring Bale's unrecognisable look in the movie. To look perfect as Cheney, the American Hustle actor has eaten a lot of pies, as he revealed in an interview.
One photo shows Bale donning a suit along with glasses and a bald cap. Another image shows that the actor wearing a hospital robe — this implies that the movie would deal with Cheney's heart problems too. Other photos reveal the look of a younger Dick Cheney with an almost full head of hair.
You can see the images of Bale as Cheney HERE.
The Dick Cheney biopic titled Backseat will revolve around Cheney's career as vice president in George W Bush's administration and his life-changing policies.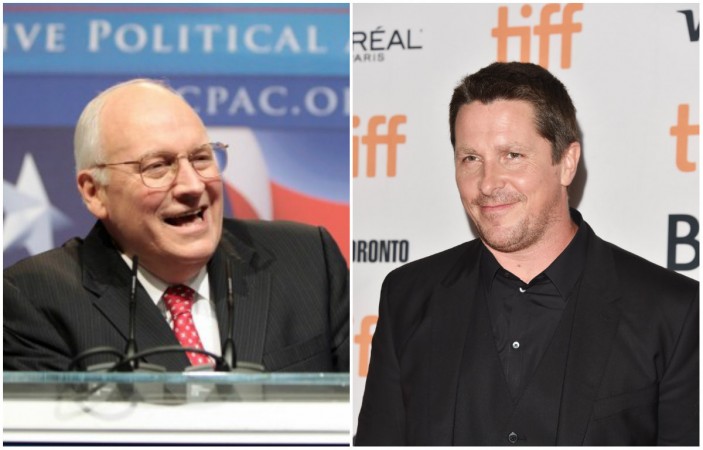 With director Adam McKay (The Big Short) on board, the movie will feature Steve Carell, Amy Adams, Bill Pullman, Sam Rockwell, and Stefania Lavie Owen.
While Rockwell will reportedly portray the role of 43rd US president George W Bush, Steve Carell will portray US defence secretary Donald Rumsfeld and Amy Adams will play Lynne Cheney, Dick's wife.
The movie has already started generating Oscar buzz even the release date is yet to be announced.