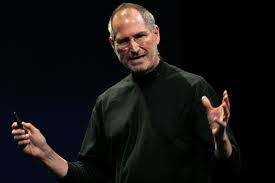 Steve Jobs movie? That's old news — out and gone to disasters. Well, just before you jump to conclusions, let's just tell you that we are talking about a brand new "Steve Jobs" movie that's in the making. The first official trailer of the film was released on 17 May.
We all remember back in 2013 when "Jobs" featuring Ashton Kutcher was released, it was heavily criticised for being inaccurate and jaded. But it looks like Apple fans have a real treat in the coming months. They will get to watch a brand new "Steve Jobs" film that is set to hit theatres on 9 October.
The film, written by Aaron Sorkin and directed by Danny Boyle, is based on Walter Isaacson's biography. From changing studios, to directors and even actors playing Jobs — this project has been troubled from the start.
But finally, the most-awaited first look of the new "Steve Jobs" aired on 17 May during the "Mad Men" finale — and unlike the first '"Jobs" film, this one looks really impressive.
As the trailer begins, we see the back of Michael Fassbender playing Jobs. He's standing on stage and looking at an empty theatre while talking about the Mac. "At 9:41, planet's gonna shift on its axis line forever. Two most significant events in the twentieth century: Allies win the war and this."
Then, as the screen narrows on Jobs, we hear the voice of Seth Rogen playing Steve Wozniak, Apple's other co-founder.
"You can't write code, you are not an engineer," he says to Jobs. "What do you do?"
Jobs' reply: "The musicians play the instruments; I play the orchestra."
And as the video continues you also get to hear the voices of Kate Winslet as Apple engineer and Jobs' confidant, Joanna Hoffman, and Jeff Daniels playing Apple CEO John Sculley.
The trailer ends with a smiling Jobs looking over the crowd and with the words "October 9" written on the screen.
The awe-inspiring one-minute trailer leaves you impressed with an interesting screenplay packaged with powerful script-writing and dialogue deliveries.
Based on this first look, we are guessing that the movie is going to be worth the wait.
Let's just hope "Steve Jobs" won't be a rehash of the 2013 disaster — "Jobs."