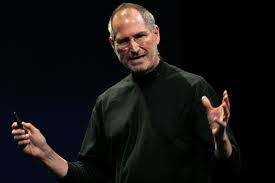 Sony Pictures has ditched the high-profile Steve Jobs movie project.
Scott Rudin, Mark Gordon and Guymon Casady were producing the biopic based on the Apple co-founder. Oscar-winner Danny Boyle was supposed to be directing the film, whose script was written by Academy award-winner Aaron Sorkin.
Variety states that at present Sony's reason behind dropping the film is not clear. The studio had acquired the rights to make the biopic after Jobs' death in 2011.
However, this is not the first time someone has ditched the project. "Batman" Christian bale and "Inception" star Leonardo DiCaprio were both in talks to play the character of Steve Jobs, but both abandoned the project. According to Time, the producers had also offered Scarlett Johansson a role as well.
German-Irish actor Michael Fassbender is now reportedly going to take up the role of Jobs, while Seth Rogen will play Apple co-founder Steve Wozniak, Business Insider reports.
It is being reported that Universal might take up the project as it has expressed interest in it. But, Universal has declined to comment on the issue.
The much-hyped movie will be based on Walter Isaacson's biography of Jobs. Sorkin has said that the biopic will be divided into three long scenes. Each scene will be taking place backstage, before the launch of one of the Apple products. Sorkin also said that Jobs' daughter Lisa "is the heroine of the movie".
This will not be the first Steve Jobs movie produced by Hollywood since his death. Last year, Ashton Kutcher starrer "Jobs" had earned a good $36 million at the global box office. While Kutcher played Steve Jobs, "Frozen" star Josh Gad was playing the role of Wozniak.
Sorkin and Rudin last worked with Sony in "Moneyball" after working in the technology drama, "The Social Network" in 2010.
A source informed The Hollywood Reporter that Boyle needed the film to go into production by January 2015 because he has another project in hand that he needs to cater to later in the year. Sony has a number of movies lined up for production and wanted to shoot the biopic later.