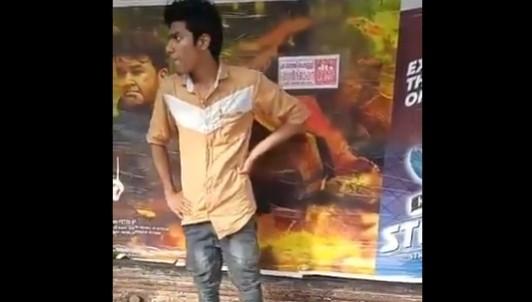 Shrikumar Menon, director of Mohanlal's 'Odiyan', which graced the big screens on December 14 had recently claimed that an intense hate campaign is going on against his movie. Adding heat to the claims made by the director, a video is now circulating online that shows a young man tearing the poster of 'Odiyan'.
Upon closer analysis, we came to know that the incident happened in Kanjirapilly, and the poster was posted on the wall by the Grand Opera theatre. In the initial moments of the video, the young man was seen little hesitant to do the act, but later, upon compulsion from another people around him, he tears down the poster completely.
ഇതിലും വലിയ ചെറ്റത്തരം സ്വപനങ്ങളിൽ മാത്രം?
കേരളത്തിലെ എറ്റവും വീര്യം കൂടിയ വികാരത്തിന്റെ പേരാണ് മോഹൻലാൽ ?
DON'T EVER FORGET THAT

Legal Issues on the way !!!

Rise Above Hate ? pic.twitter.com/DmJDUbeahE

— Kottayam Theaters (@KottayamTheatrs) December 17, 2018
International Business Times, India tried to contact the Grand Opera theater for their comments. However, there was no response even after multiple attempts.
In the meantime, another video is also circulating online that shows a section of people distributing sweets, stating that Odiyan has flopped in the box-office.
Both these videos have gone viral on the internet, and Mohanlal fans are alleging that it is Mammootty supporters who are indulging in such heinous acts. Even though Mohanlal and Mammootty share a good friendship in their real lives, fights are quite common among their fans when movies get released.
Mammootty fans used to call Mohanlal 'Laalappan', while Mohanlal fans have nicknamed Mammootty 'Guhan' and 'Mammunni'.
Earlier, Mohanlal fans had alleged that Thalapathy Vijay fans are spreading negative comments about Odiyan on online spaces.
Even though 'Odiyan' received negative reviews from audiences in its opening day, trends seem to be changed a lot now, and the movie is going steadily with the word of mouth publicity. As per latest updates, the film has collected more than Rs 35 crore at the box-office (until Saturday).
'Odiyan' shows the life of Manikyan, an Odiyan who has shape-shifting abilities. Apart from Mohanlal in the title role, the film also stars Manju Warrier, Prakash Raj, Narain, Siddique, Innocent, Nandu, Kailash and Sana Althaf in other prominent roles. The movie is bankrolled by Antony Perumbavoor in the banner of Aashirvad Cinemas.