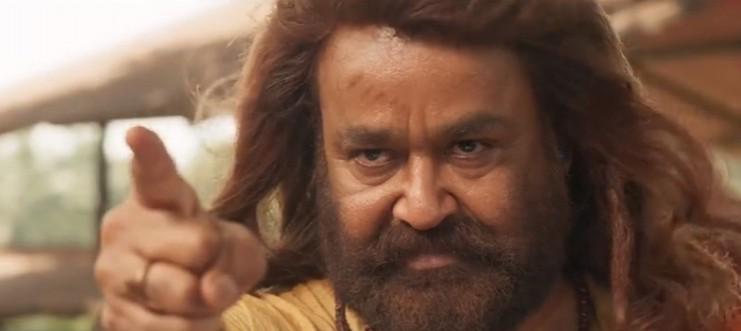 Amid huge hype and unexpected Kerala hartal, Mohanlal's most anticipated flick of the year 'Odiyan' graced the big screen in style on December 14. Most of the theaters in Kerala witnessed huge rush even at the opening show which began at an odd timing of 4.30 AM, this reporter managed to watch from Thangam theater, Vadakkencherry in the midst of thousands of fans.
Here is our genuine, unbiased and first review of 'Odiyan':
The story of Odiyan: The man from the darkness
'Odiyan' begins with a very interesting note when an old lady gets drowned in Varanasi. As expected, Mohanlal's character enters the scene, and he saves the woman from the mouth of death. After seeing Mohanlal's face, the woman from Kerala identifies that he is actually Manikyan, an Odiyan, a hired goon mentioned in Palakkad folklore who has the ability of shapeshifting.
From then, director cleverly zooms in his camera to the flashback of Odiyan and narrates the reason why he ended up in Varanasi from Thenkurissi, a small village in Palakkad.
Once 'Odiyan' makes his return to his village from Varanasi, he takes vengeance on his enemies, and this forms the major crux of the movie.
Mohanlal steals the show
Mohanlal is such an actor with an impeccable screen presence, and he has the capability to carry any movie in his own shoulders single-handedly. When it comes to 'Odiyan', the actor repeated the same magic, and it was a sheer treat to watch the Superstar enacting two challenging roles with finesse on screen.
Interestingly, most of Mohanlal's scenes in this movie demand huge physical effort, and as expected, he pulled out those scenes with ease and grace. Through this movie, Mohanlal once again proved that he is one actor who can perform fight scenes with its full originality. In the climax fight scene, he puts up a remarkable show, but it will be foolishness if audience compare these scenes with the action sequences in Pulimurugan, as these two movies fall in entirely different genres.
Manju Warrier as the heroine did a pretty decent job, so is Prakash Raj who did the role of the lead antagonist. The supporting star cast which includes Narain, Nandu, Siddique and Sala Althaf had nothing much to do, as this movie is something tailor-made for Mohanlal.
VA Shrikumar Menon made a decent debut, but not a great one
Director VA Shrikumar Menon and scriptwriter Harikrishnan hail from Palakkad, and as a result, they have successfully used several minute Palakkad emotions with perfection; especially when it comes to those old palm trees, and the unique slang of Palakkad people.
The director has done a pretty decent job when it comes to narration, but in some scenes, especially in the initial moments of the second half, he lost his rhythm. However, he has done what this movie demands, since this flick is the story of a man who lives in a village, and in that particular scenario, we can't expect mind-blowing huge sets or foreign locales.
The background score of the movie is awesome, especially, the 'Oh Oh Odiyan' humming. Songs composed by M Jayachandran were top notch, and they were placed nicely by the director without pulling the audience to a state of boredom. The fight scenes were mostly shot in dark, and as a result, audience may find it hard to recognize who is the antagonist and protagonist.
Final Verdict
Before entering the theaters, audience should realize that 'Odiyan' is not Pulimurugan, and they should stop comparing between these movies. 'Pulimurugan' is a high-voltage action movie, while 'Odiyan' is the raw journey of Manikyan, the last Odiyan in Thenkurissi. Moreover, this film is a tribute to all those Odiyans who lived in Palakkad until the rise of electricity.