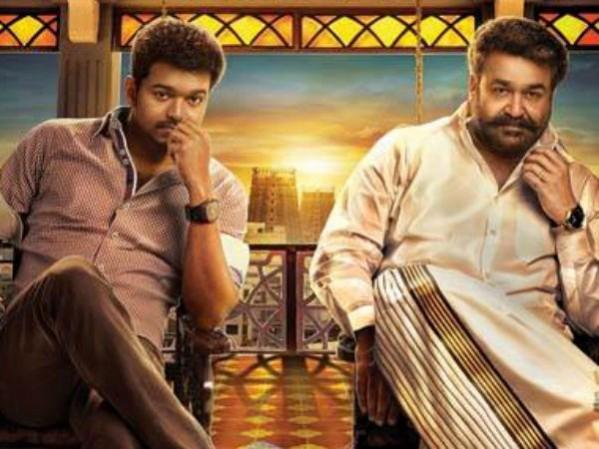 Fan fights on social media between Ajith and Vijay fans is a common sight in Kollywood, but here is an instance where Thalapathy's admirers are getting into war-of-words with the fans of Mohanlal.
A fight has broken between Mohanlal and Vijay fans on Twitter. It all started because of VA Shrikumar Menon's recent comment during the promotion of his latest movie Odiyan. The director had stated that people accept when a Vijay movie rakes in Rs 100 crore at the box office, but question when a Malayalam film achieves such feat.
A section of Vijay fans got offended over Menon's comment and started mocking Mohanlal on social media sites. It triggered a fight between Thalapathy and Lalettan fans.
With Odiyan starting to get negative reviews on Twitter, the fans of Mohanlal are complaining that Vijay fans are spreading negative reviews about the film.
Indeed, the fans of Mohanlal have called the Thalapathy fans as 'Vijay mafia,' who bring down good movies through negative reviews. The selected-few comments can be read below:
SecretSarkar: Mr. @Mohanlal ji, I am a fan of your acting especially in movies like iruvar, drishyam etc.
But your jealousy towards your next gen star(Vijay) is clearly visible and it is expressed through your #odiyan movie director too.
Fame, BO, stardom etc is temporary.
Attitude matters
Satwik Deshpande: Vijay fans have gone completely mad now! They are attacking all actors to prove Vijay is number 1 in TN and Kerala! I think it's time to boycott Vijay's films!
Sreehari: Lol, lalettans jealousy towards vijayfor what bro? Give a single reason for that. Acting wise? Fan base wise? Vijay is no where near lalettan in these two. Then why jealous. And i think the director is psycho dont bother about him
Joel Mathew: How stupid can u be. Odiyan has nothing to do with Vijay and I doubt Lalettan would ever be jealous of Vijay because he is much superior to him in terms of acting and stardom
Adithya: Did mohanlal say to you that he has jealousy towards Vijay or anyone?? Why do you assume things ? Sarkar was a huge disappointment... Go get a life
#2point0 mixed reviews. Reason- Vijay mafia???#Odiyan disaster reviews. Reason- Vijay mafia.
Next what??? Ur mom pregnant: Reason- Vijay mafia???

— JackJack1666 (@JJack1666) December 14, 2018
Odiyan movie director interview:

Why are we celebrating vijay and degrading our stars...

He is questioning why people going behind vijay and ignoring our stars.
Jealousy indeed.. pic.twitter.com/g7n3w5YRKc

— இரகசிய ரசிகன் ? (@SecretSarkar) December 14, 2018
Rayeed: Vijay mafia job done & dusted
converted #Odiyan from average movie to Disaster !
#OdiyanRising #odiyantelugu
The early reviews coming from the social media says that Odiyan is an average movie with a good storyline enhanced by VFX and Mohanlal's performance. The director has failed at execution part, say the netizens.