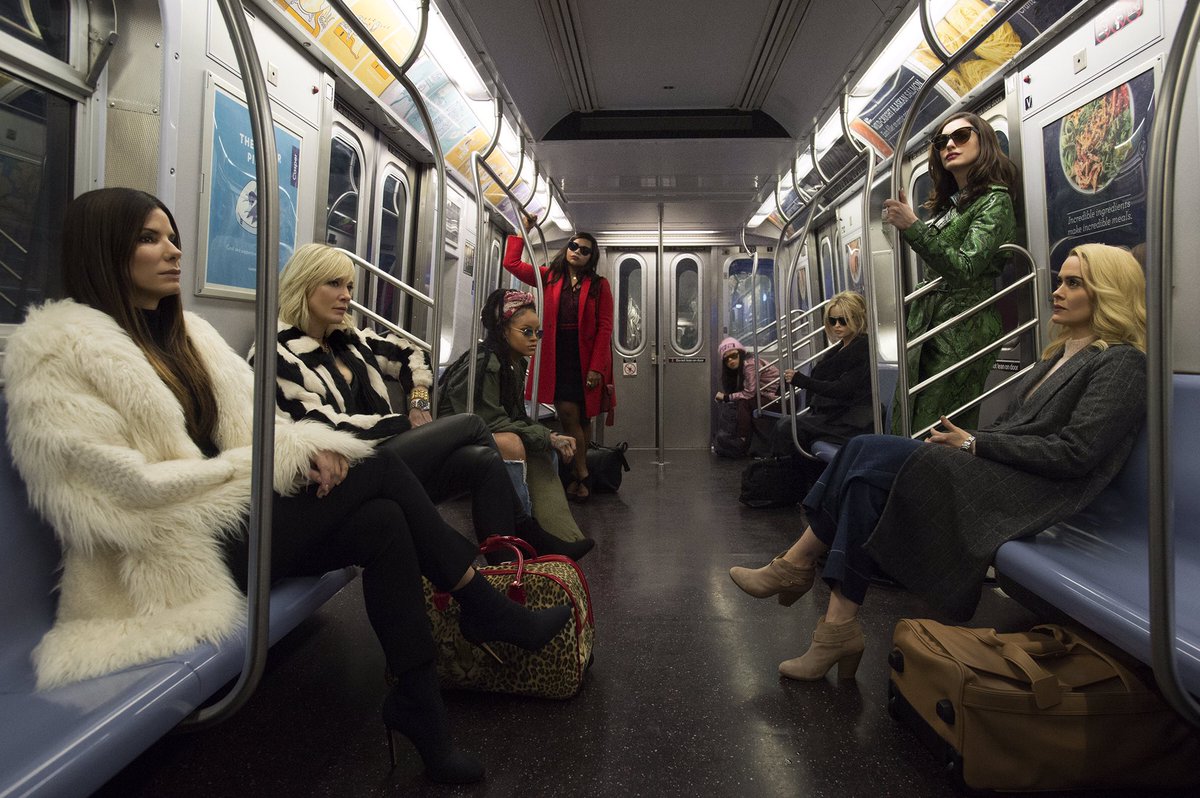 Ocean's 8, which hit the cinemas on June 8, is all set to dominate the domestic box office. Featuring actresses like Sandra Bullock, Cate Blanchett, Mindy Kaling, Sarah Paulson, Awkwafina, Helena Bonham Carter, Rihanna and Anne Hathaway, the movie started quite strong at the box office with an impressive $4 million from Thursday night previews.
According to Deadline, the heist comedy is expected to earn an estimate of $44 million at the US box office on the opening weekend as it already grossed $15.9 million on Friday itself. The movie is opening at 4,145 locations.
If we look at the previous movies in the franchise starring George Clooney and Brad Pitt, Ocean's Twelve's collection was better. Ocean's Twelve earned a total of $14.7 million on its opening day while Ocean's Eleven and Ocean's Thirteen grabbed $13.3 million and $13.1 million respectively.
As per other reports, the all-female movie will probably take home much more than the previous movies in the franchise on its opening weekend. The best opening in the franchise was witnessed by Ocean's Twelve (2004), which earned $39.1 million.
Produced by Stephen Soderbergh, Ocean's 8 has earned mixed responses from the critics. The official synopsis of the movie reads —
Five years, eight months, 12 days…and counting. That's how long Debbie Ocean (Bullock)—just released from prison—has been concocting the greatest heist of her storied career. She knows what it's going to take—a team of the best in their field, starting with her former partner-in-crime Lou (Blanchett). Together, they recruit a crew of specialists: jeweler Amita (Kaling); street con Constance (Awkwafina); expert fence Tammy (Paulson); hacker Nine Ball (Rihanna); and fashion designer Rose Weil (Bonham Carter). The target is $150 million in diamonds—diamonds that will adorn the neck of world-famous actress Daphne Kluger (Hathaway), who will be center stage at the event of the year, the Met Gala. Their plan appears rock solid, but it will need to be flawless if the team is to get in and get away—all in plain sight.
Meanwhile, apart from Ocean's 8, the newly released horror flick Hereditary starring Milly Shapiro and Tony Collette is expected to take in an estimate of $14 million on opening weekend while battling with Solo: A Star Wars Story and Deadpool 2.
Related
Rihanna in awe of Anne Hathaway's booty: Ocean's 8 star spills the beans
Sandra Bullock almost quit acting over sexism
Ocean's 8: Mindy Kaling admits learning Hindi was 'incredibly challenging'
Hollywood movies releasing in 2018 – Avengers: Infinity War, Deadpool 2, Ocean's 8, Mission: Impossible and more