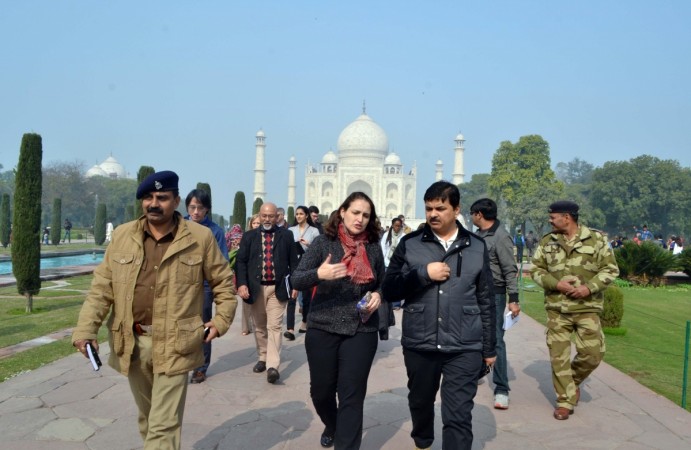 US President Barack Obama and First Lady Michelle Obama, who will arrive in New Delhi early on Sunday to attend the Republic Day celebrations the next day, have a packed schedule for their three-day tour to India.
Interestingly, President Obama has also agreed to take part in a radio programme, "Mann ki Baat", jointly with Prime Minister Narendra Modi.
His flight, Air Force One, will arrive at Delhi's Indira Gandhi International Airport on 25 January at 4:45 am. From there, he will be driven to The Maurya Sheraton Hotel, where he will stay during the course of his visit to India.
Itinerary
On his first day, Obama will reach Rajghat at 10.40 am and will meet PM Narendra Modi at Hyderabad House at 11:20 a.m. After holding talks for two hours over bilateral issues, they will jointly hold a press conference at 1:50 pm.
President Obama's first day will conclude with dinner at Rashtrapati Bhawan.
On his second day, he will arrive at Rashtrapati Bhawan at 9:25 a.m. to attend the Republic Day parade, which will begin from 10 a.m. President Obama is the chief guest for Republic Day celebrations.
After the Republic Day celebrations conclude, President Obama will address a CEO Summit from 12:40 p.m. to 3:10 p.m. and then head to Maurya Hotel for a CEO roundtable, to be held at 5:45 p.m. His second day will end with a private dinner with PM Modi.
He will be spending the last day of his trip visiting one of the Seven Wonders of the World, the Taj Mahal, on 27 January. The President will also addressing Indians in Modi's "Mann ki Baat" radio programme on the same day, Modi tweeted.
"This month's 'Mann Ki Baat' episode will be a special one, where our Republic Day guest @BarackObama & I will share our thoughts together," Modi tweeted.
"I am eagerly looking forward to the special 'Mann Ki Baat' programme with President @BarackObama, which will be aired on 27th January," he further tweeted.
Concluding his second trip to India, President Obama will reach Delhi's International Airport at Palam at 4:35 p.m. and will depart for the United States at 5:50 p.m.
Top issues in the agenda for bilateral talks between Modi and Obama
Energy policy and climate change, for which the US negotiators are laying groundwork for an international climate agreement ahead of a December UN summit in Paris, will top the agenda for the bilateral talks, deputy national security advisor Ben Rhodes said, PTI reported.
Apart from these, economic, regional and global issues, terrorism, and defence are also likely to be discussed in the bilateral meeting.
Indo-US Civil Nuclear Agreement is also said be one of the top issues that the two leaders will discuss in Sunday's meeting. Officials met in London on Wednesday for the third round of talks to work out the differences on the nuclear liability law for full implementation of the civil nuclear deal, reported The Economic Times.
Both the nations are likely to announce an insurance fund after Modi-Obama talks this week. This fund will buy out India's concerns over Clause 17 of the Liability Act as the United States will pay off liabilities for certain components of the reactors supplied by it.