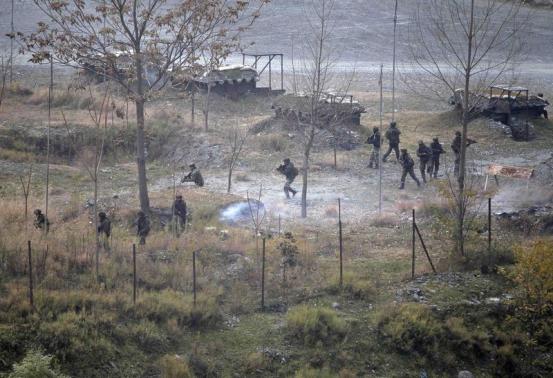 At least 200 militants are trying to enter India from the Pir Panjal range and may target schools and civilian areas ahead of U.S. President Barack Obama's visit to New Delhi, said Lieutenant General K.H. Singh on Thursday.
Singh is the General Officer Commanding (GOC) of Jammu and Kashmir-based 16 Corps of the Indian Army. The Pir Panjal range is in the inner Himalayan region, surrounding Jammu and Kashmir and Himachal Pradesh in India, and Pakistan occupied Azad Kashmir.
"About 200 militants in 36 launch pads across Pir Panjal range are trying to infiltrate into the Indian side," NDTV quoted Singh as saying. "There is every possibility that Pakistan will try to divert some of the fringe elements of home grown terrorist outfits to Indian side," he added.
Singh further said that the military on the Indian side are ready for a counter-attack in case terrorists try to infiltrate the Indian border.
"Our counter-infiltration posture is firmly in place, infiltration bids will be eliminated if any attempt is made. The Indian Army remains prepared all the time for any eventuality, for anything that may unfold," Zee News quoted Singh as saying.
Army Chief Dalbir Singh Suhag also commented on the terror activities across the border, stating that the terror infrastructure in Pakistan occupied Kashmir is "intact".
The U.S. President is scheduled to visit India for a three-day tour starting 25 January, during which he will hold bilateral talks with Prime Minister Narendra Modi and attend the Republic Day celebrations as the chief guest.