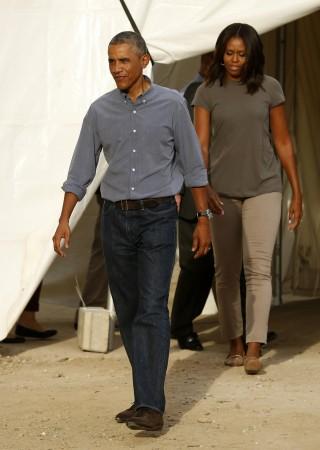 The Border Security Forces (BSF) has added over 1,000 more troops along the India-Pakistan border in the wake of intelligence inputs warning of terror attacks ahead of US President Barack Obama's Republic Day visit.
"There are inputs that rogue elements within ISI and Army may try to stage Chittisinghpura kind of massacre during President Obama's visit. We have picked up information about three groups," Daily News & Analysis quoted BSF sources as saying.
The intelligence information warned that groups of terror outfits including Lashkar-e-Taiba (LeT) and Jaish-e-Mohammed (JeM) may infiltrate the Indo-Pak border along Kathua and Poonch district of Jammu & Kashmir with intention to carry out terror attacks ahead of Obama's visit.
"Inputs suggest a group of 12-15 Lashkar-e-Taiba (LeT) terrorists may cross over at Kathua in Jammu and Kashmir, led by two LeT operatives Abdullah Shaheen and Taya Rafiq. They are planning to carry out terror strikes before Obama's visit," Hindustan Times quoted a security official as saying.
According to the DNA sources, another set of 10 LeT terrorists headed by Abdul Rashid are waiting at the launching pads in Pakistan occupied Kashmir (PoK) to infiltrate through Poonch district.
In addition to LeT, JeM also poses a major threat to India during Obama's visit. The JeM, which declared 2015 a year of Inquilab-e-Jihad, has also directed its members to infiltrate the state to orchestrate terror attacks.
With the terror threats flooding in ahead of Obama's three-day visit to India, the security forces have geared up security across Indo-Pak border and all such sensitive locations. BSF has already added a second line of defence at certain locations along the border a week ago to prevent terrorists from taking advantage of the fog and infiltrate to the Indian side.
The security has been tightened in the wake of terror threats that started surfacing ever since the report of Obama's India visit came out.
India, which has already witnessed massacre of at least 36 Sikhs at J&K's Anantnag district during US former President Bill Clinton's visit in 2000, does not want to take any chance at present.
India will be celebrating its Republic Day this year and Prime Minister Narendra Modi has invited Obama to the Republic Day parade. Obama, accompanied with his wife Michelle Obama, will be attending the parade as chief guest.