Every time the Obamas share a happy family moment on Twitter, social media platform users cannot help but mourn his absence in the White House. Ever since Donald Trump took over the post of the US President, any post shared by Barack Obama garners "miss you" responses.
However, many more hearts were broken on Christmas when the former POTUS shared a heart-warming photo to wish the world for the annual holiday. The picture was taken in 2013.
Also read: Obama trumped Donald but Twitter proved chicken nuggets deserved more attention in 2017
In the picture, Barack is accompanied by his wife Michelle and his two daughters, Malia and Sasha. The former first family posed with adorable little elves. Flashing their beautiful smiles, the family picture also featured Christmas trees, gifts and a stuffed cartoon character, Scooby Doo.
Barack shared the picture on his Twitter handle with the caption: "On behalf of the Obama family, Merry Christmas! We wish you joy and peace this holiday season." This beautiful picture was enough for the internet to tear up and go on a meltdown.
"Merry Christmas Obama's. We really miss you all," a Twitter user spoke on behalf of many people. "America remembers ur empathy & dignity. Thk u!" shared another. "Merry Christmas to the last great president America has had," added another.
"Please come back, we miss you, Merry Christmas. Hi, Michelle, love you, kiss the kids for me," tweeted a user.
Despite the picture being old, the Obamas photo oozes the festive spirit as compared to the Trumps' stiff and formal holiday picture.
The happy photo has been liked by over 1.4 million Twitter users as compared to Donald Trump's Christmas picture, which fetched about 77 thousand likes on Melania Trump's post.
Merry Christmas from President Donald J. Trump and First Lady Melania Trump.@POTUS & @FLOTUS are seen Tuesday, December 5, in their official 2017 Christmas portrait, in the Cross Hall of the White House in Washington, D.C.
(Official White House Photo by Andrea Hanks) pic.twitter.com/WRvY1sUUuw

— Melania Trump (@FLOTUS) December 14, 2017
Though he has been highly influential on social media this year (most retweeted picture and one of the most popular celebrities online), Obama recently spoke to Prince Harry taking a subtle dig at Donald Trump warning people over divisive social media use.
Speaking to the royal for a BBC show, "All of us in leadership have to find ways in which we can recreate a common space on the internet," Obama said.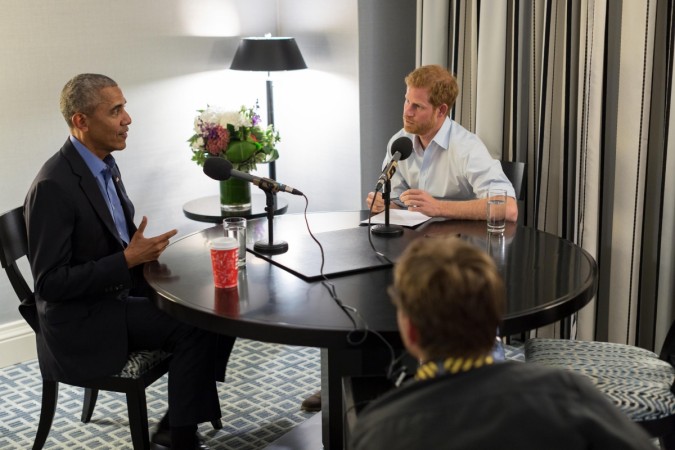 "One of the dangers of the internet is that people can have entirely different realities. They can be cocooned in information that reinforces their current biases," he said. He did not mention Trump by name but it was evident that he was addressing the POTUS.