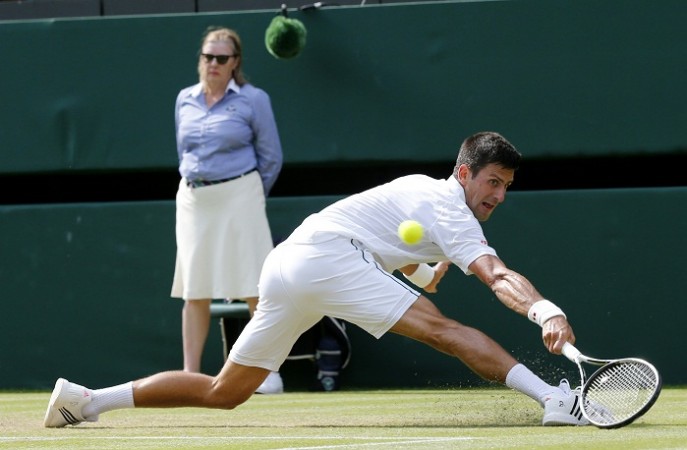 Novak Djokovic has been as assured and unstoppable as he has looked for most of 2015 in this year's Wimbledon. The Serbian will face his stiffest test yet, though, in the shape of Kevin Anderson in the fourth round at Court No.1 on Monday.
Djokovic remains the clear favourite for the Wimbledon title, especially with his rivals Roger Federer and Andy Murray on the other half of the draw. However, there is a certain Stanislas Wawrinka, his conqueror at the French Open, lying in wait in the semifinals, before which Djokovic will have to negotiate a path through Anderson.
Anderson is coming off a final appearance at Queen's, where he lost to Murray in straight sets. The big-serving South African, who has struggled a little in the earlier rounds, has the game to trouble any player on grass, something that Djokovic is well aware of.
"Another big server and somebody that is in a great form," Djokovic said of Anderson after his straight-set demolition of Bernard Tomic. "I think he is probably playing the tennis of his life all in all.
"He's reached the highest ranking now in his career. He keeps on going forward. I think he improved his movement and his game from the baseline. He always had a very good serve.
"I think it's going to be a game of very small margins that will be decided by a few points. So I need to be able to get as many returns back in play. I'll try to mix up the pace, something similar to what I've done today. Hopefully I'll be on the high level against Kevin."
Djokovic was certainly on a high level against Tomic in the third round, barely giving the talented Australian a sniff en route to a 6-3, 6-3, 6-3 victory.
Anderson will know if Djokovic produces that kind of tennis on Monday, it will be another stroll in the All-England park for the defending champion.
"I'm trying to build my game in general. There is nothing specifically I've been working on. Just every stroke in my game is getting better each match," Djokovic added ominously. "That is something that is obviously very encouraging to see.
"I'm pleased with the performances so far. The second week is obviously always more challenging, more difficult than the first week. But I'm ready for it now. I have two days. I'm going to work on the court, get myself recovered and ready for a challenge that is presented in the second week."
Where to Watch Live
Get the Novak Djokovic vs Kevin Anderson Report HERE
Update: The final set of the Djokovic-Anderson match will be played at 1 pm BST (5.30 pm IST, 8 am ET) at the No.1 Court. A light rain has delayed the start, but it should begin soon enough.
Get the Paes/Hingis Mixed Doubled Report HERE
Get the Serena Williams vs Venus Williams Report HERE
Live coverage of the fourth round match of Wimbledon 2015 will be on Starsports4, while all the matches can also be watched via live streaming online on Hotstar andStarsports.com.
Viewers in the UK can watch Wimbledon 2015 live on BBC One and BBC Two, while the option to live stream is on BBC iPlayer. BBC Radio 5 Live will also provide radio coverage for Wimbledon.
Audience in the US can catch the matches live on ESPN, while the fourth round action can also be live streamed on Watch ESPN.