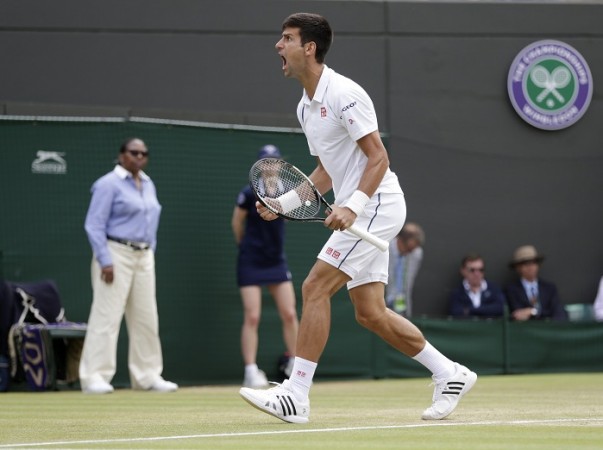 Kevin Anderson opened up the final set shootout in this fourth round match at Wimbledon against Novak Djokovic with three aces in the opening game, two of them to open up the restart – the signs were ominous.
Serving first, Anderson had the advantage and those big, booming serves rendered Djokovic's defensive powers useless. The serving of Djokovic was not the greatest either, as Anderson put pressure on the world number one, even earning himself a few break points.
But then, this is Djokovic we are talking about, the master at getting out of tight situations; the best player in the world by some distance; one who revels when his back is against the wall.
Djokovic hung in the by his fingertips for a lot of this final set, and then kicked up a gear in one Anderson game – the 11th – to get that crucial break, before holding his serve to seal the match 6-7 (6-8), 6-7 (6-8), 6-1, 6-4, 7-5. Djokovic will now play US Open champion Marin Cilic in the quarterfinals.
After bad light forced the fifth set of this fourth round match into Tuesday, the start was further delayed by a slight shower, but once the players resumed battle, it was normal service.
Anderson kept belting in one big serve after another and Djokovic kept looking up to his box, wondering what it was going to take to break the South African's serve – because break he must to win the match, as there is no tiebreak in the final set.
There was plenty of pressure on the Djokovic serve to boot, with Anderson gaining two break points in the fourth game to take a decisive lead. But, the Serbian held his nerve in those big points, which in the end proved to be the difference.
You knew the longer the set went, the better chance Djokovic had to go through to the quarterfinals, and so it proved. The defending champion held his serve smartly to stay in the match at 5-5, and then went into that exalted gear, with Anderson, feeling the pressure, unable to cope, pouring in a couple of costly double faults.
With a 6-5 lead, all Djokovic had to do was hold his serve and the defence of his title was still on course, but the tale took a bit of a twist with Anderson, going for broke, picking up the first to points to take a 0-30 lead.
A big forehand, on the line, from Djokovic made it 15-30, before a couple of errors brought up match point for the Serbian. He would only need that one match point, and relief was written all over the world number one as Anderson was left wondering with that "what if" feeling.