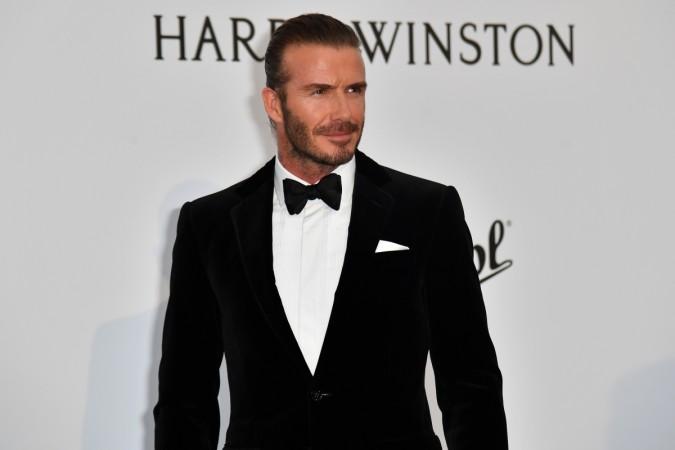 Can David Beckham portray the iconic role of James Bond perfectly? The former soccer player was recently spotted auditioning for the next James Bond. But as we have reported earlier that fans had preferred Tom Hardy over other actors to play the role of James Bond (as per a Twitter pole on International Business Times, India), thus the news generates more curiousness amongst Bond fans.
Also read: David Beckham emails hacked: Katherine Jenkins hits back at f**king joke comment; emails hiding possible Beckham affairs?
Well, take a breath Bond fans because we are not serious about it. The ex-England captain recently appeared on The Late Late Show with James Corden alongside actress Emily Blunt and singer Harry Styles. As a funnier part of the program, both the stars appeared in an audition to play the next Bond But unfortunately, both of them could not get the part. So, they decided to come up with their own movie where they portray the roles of Batman (David Beckham) and Robin (James Corden).
Beckham also took to Instagram to share two photos from the show. Captioning one of those photos, the former soccer player wrote: "Some late night Bonding with @j_corden on the @latelateshow tonight (Sky 1 CBS)."
Watch the funny audition clip below.
Actually, David appeared on the talk show alongside actress Emily Blunt where Corden expressed his wish to reminisce the style of Victoria and David Beckham as to celebrate their 18th wedding anniversary beforehand.
Before showing the photo of the past look of the star couple donning the matching leather Versace ensembles (1999), James Corden said, "It's safe to say you and Victoria made what I consider to be a bold choice among couples - of dressing the same."
Not only that, the talk show host decided to recreate one of their famous looks as James, David, and Emily posed behind a giant photo of their outfits.