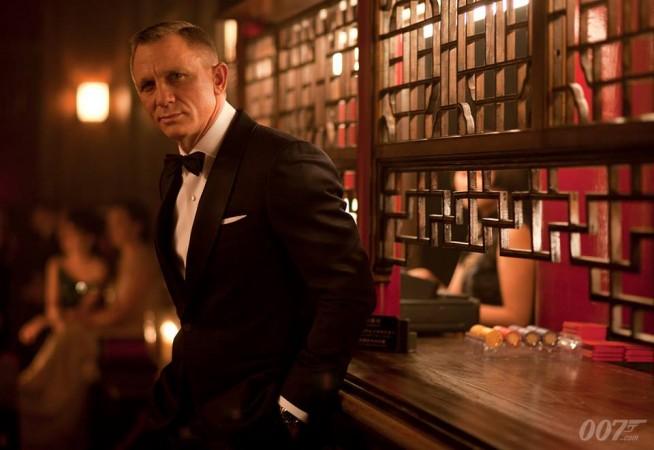 As days pass by, the chances of Daniel Craig becoming Bond seem to grow slimmer. The actor portrayed the character so brilliantly that a handful of actors deserve to take over the iconic role. Though the producers are in talk with Daniel Craig and a few other actors, International Business Times India has moved ahead a little to find out the next James Bond.
Also read: James Bond: Not Tom Hiddleston, but Daniel Craig seems 'tough enough' to reprise his role as 007
Fans across the world want the Mad Max actor to reprise in his Bond role again, but the British actor reportedly said that he would "slash his own wrists" rather than reprise his role as the British secret agent. However, New York Post's Page Six recently claimed in a report that Bond producer Barbara Broccoli has "just about persuaded Daniel Craig to do one more Bond movie."
While there were a huge number of fans desperately want Craig to reprise the role of British secret agent, a few have their own pick. So we decided to conduct a Twitter poll to find out, if not Daniel Craig, then who would you like to see as James Bond in Bond 25?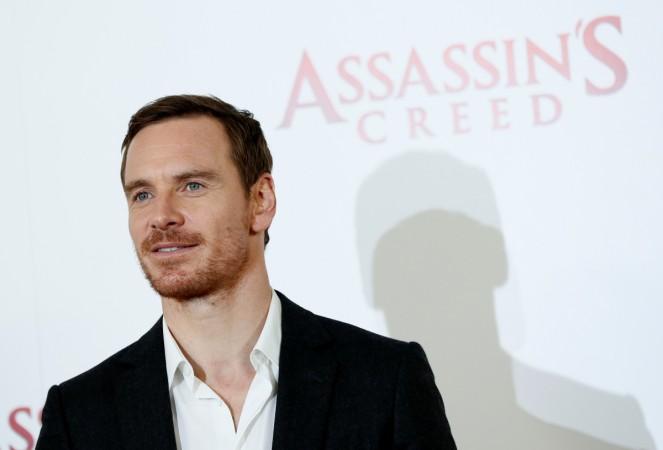 We gave the Twitterati four options: Chris Hemsworth, Idris Elba, Tom Hardy, and Michael Fassbender. And, most of the fans voted for Taboo actor Tom Hardy.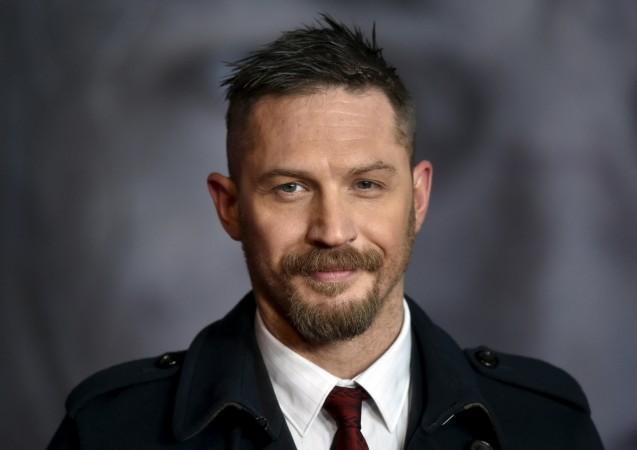 Looking at other options, we had Idris Elba. The 44-year-old Luther actor earlier said that he is "too old" to play the character of Bond. But he would have been the first black actor in the history of James Bond movie.
Featuring alongside him, Michael Fassbender would be another apt choice in the list. The actor who will be seen as the lead in Assassin's Creed is arguably one of the best acting talents of this generation.
Chris Hemsworth, 33, also features in the list. The Australian actor is best known for his role Thor in the Marvel Cinematic Universe since 2011. And, then comes Tom Hardy, who is best known for his role in Christopher Nolan's sci-fi thriller Inception (2010). Hardy's talents and proven appeal make him more acceptable for the role. Also, the Peaky Blinders star himself once confessed that he is quite keen to be the next Bond.
So what does the social media say?
About 38 percent voters want to see Taboo actor Tom Hardy play the role of 007, whereas 26 per cent votes have been cast to Australian heartthrob Chris Hemsworth. And, the other two British actors Idris Elba and Michael Fassbender were ended up getting 18 percent vote.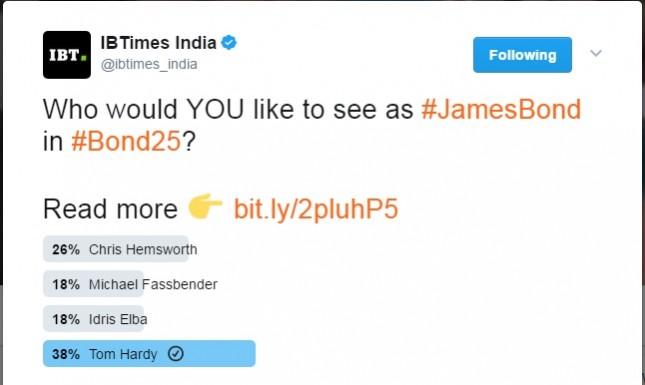 While Hardy garnered major support, Diptendu Chakraborty, a Hardy fan shared: "After watching Mad Max: Fury Road, I will definitely cast my vote for Tom Hardy. He has a superb combination of hotness with acting and action prowess."
We still have to wait for some time to see who has been finally cast as the next 007 by the production head Barbara Broccoli.