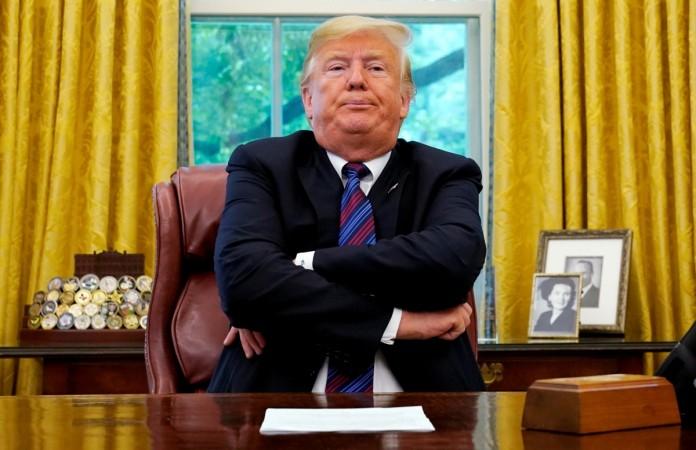 "I built what I built myself," President of the United States Donald Trump is often heard saying. During his presidential campaign, he even spoke about how he was a self-made billionaire and that his father Fred Trump, a real estate tycoon, barely provided any financial help. However, it turns out Donald wasn't really being honest.
An investigation by the New York Times has revealed that the president's fortune shot up due to the huge sum of money that he received from his father's real estate empire. While he had earlier claimed that he received $1million in loan from his father and had to even "pay him back with interest," the revelations in the investigation beg to differ.
He, in fact, started receiving money since he was three and became a millionaire by the time he was eight years old. "By age 3, he was earning $200,000 a year in today's dollars from his father's empire," said NYT. When Donald was 17, he was part owner of a 52-unit apartment building and received $1 million from his father when he graduated college.

"The money increased with the years, to more than $5 million annually in his 40s and 50s," the investigation revealed. It has also been found that Donald's parents "transferred well over $1 billion in wealth to their children," which, in turn, helped them hide millions of dollars from being taxed.
Not just as gifts, Fred seems to have found quite a few ways to conceal his wealth and transfer them to his children. For this, documents showed Donald as Fred's salaried employee, his landlord, banker, consultant and his property manager. Fred is said to have transferred large amounts of loan, a lot of which weren't repaid.
Documents also showed that Fred had paid for Donald's car, compensation for his employees, funds for his first Manhattan offices, money to renovate them and even funds to purchase stocks. Not just that, Donald received three trust funds and $10,000 for Christmas. In total, Donald is said to have received about $413 million from his parents.
Donald and his siblings are also said to have helped their parents conceal their wealth by setting up a fictitious corporation and declaring false tax deductions. Donald reportedly also helped undervalue his parents' assets and properties, which then incurred minimal tax bills when transferred to him and his siblings.
For the investigation, NYT is said to have spoken to scores of former employees of Fred, as well as, his advisers.
While the New York State Department has now launched a probe into these allegations, the Trump camp has labeled the report "misleading" and "defamatory."
Charles J. Harder, a lawyer acting on behalf of the president, told the NYT that these "allegations of fraud and tax evasion are 100 percent false, and highly defamatory."
"There was no fraud or tax evasion by anyone," he said. "The facts upon which The Times bases its false allegations are extremely inaccurate."
Donald's brother Robert Trump also issued a statement and said thus: "Our dear father, Fred C. Trump, passed away in June 1999. Our beloved mother, Mary Anne Trump, passed away in August 2000. All appropriate gift and estate tax returns were filed, and the required taxes were paid.

"Our father's estate was closed in 2001 by both the Internal Revenue Service and the New York state tax authorities, and our mother's estate was closed in 2004. Our family has no other comment on these matters that happened some 20 years ago, and would appreciate your respecting the privacy of our deceased parents, may God rest their souls."