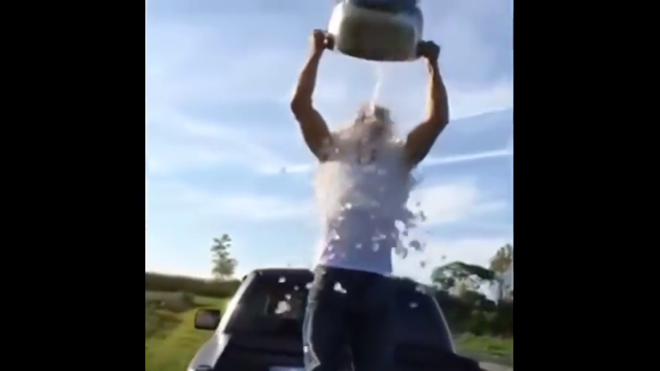 An 18-year-old Scottish teen has reportedly become the first victim of the latest internet trend "Ice Bucket Challenge".
Cameron Lancaster, from Burnt Island in Fife, Scotland, died on Sunday evening after he drowned in a quarry. Lancaster was reportedly tombstoning – a practice where people jump feet-first from a cliff into water – in a quarry as a part of the challenge.
It is believed that Lancaster took the ice bucket challenge before jumping into the water. He disappeared at Prestonhill Quarry in Inverkeithing on Sunday.
Emergency services were called after he went missing for hours and his body was later recovered at around 9 pm on Sunday.
The exact cause of Lancaster's death is yet not revealed, but locals say that he went to Prestonhill Quarry after taking the challenge.
Alice McGarry, local councillor, said that while there is no confirmation, the accident is likely to have happened because of the new challenge.
"There are rumors and speculation that this tragedy is linked to the ice bucket challenge. Some children have been jumping off the cliffs at the quarry. They have always done that, but it seems there has been a recent increase because of this challenge," McGarry said, according to Yahoo.
"There is no confirmation at this stage, but that is what we think has happened. I saw a video of another boy jumping from one of the edges last week so this could be related."
Wilma Sutherland, one of the witnesses, said that her son had said that Lancaster had taken part in the challenge and jumped in the quarry.
"I asked my son who's 15 if he had heard anything and he told me that a young guy had taken part in the ice bucket challenge and then jumped in the quarry and didn't come up," Sutherland told The Independent.
Since the time the Ice Bucket Challenge went viral, there have been numerous hoax death reports. Last week, a report claiming that a Chicago teen died of neck injury after accepting the challenge went viral. But the report turned out to be false news.
What is ALS Ice Bucket Challenge?
Ice Bucket Challenge is a social media phenomenon that has gone viral. Also called ALS Ice Bucket Challenge, people who accept the challenge take a video of themselves getting doused with buckets of ice water.
The main motive of this challenge is to spread ALS (Amyotrophic lateral sclerosis) awareness around the world. ALS is a neurodegenerative disease that affects nerve cells in the brain and the spinal cord, explains ALS Association.