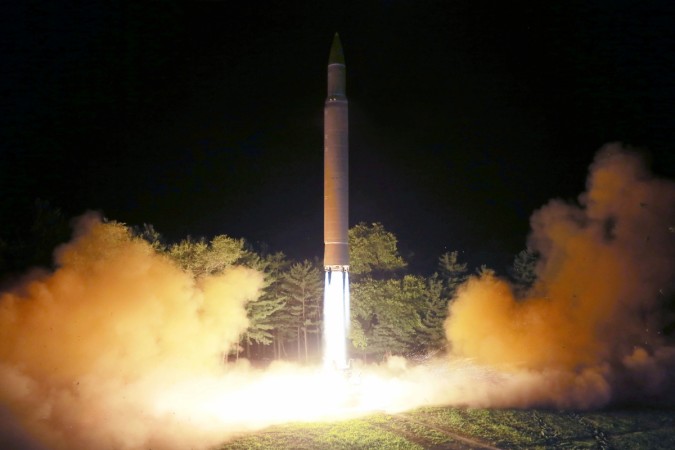 North Korea test-fired an intercontinental ballistic missile on Wednesday, November 29, inviting global ire once again. The missile is said to have landed close to Japan and the Japanese government said that it flew for about 50 minutes and landed in the sea in Japan's economic zone.
The Pentagon, after its initial assessment, confirmed that Pyongyang had launched an intercontinental ballistic missile (ICBM), which is also said to be the highest one until now. It reached an altitude of 4,500 km and flew 960 km, reported BBC. However, the US noted the missile wasn't a threat to the country and its allies.
The latest launch comes about a week after US President Donald Trump put the reclusive nation back on the list of countries that according to the US support terrorism.
Trump has often lashed out at Pyongyang for its nuclear programme, and after Wednesday's launch, the US president said: "I will only tell you that we will take care of it. It is a situation that we will handle," reported AFP. But he did not elaborate on what steps Washington planned to take.
Meanwhile, Japan made its fury evident and Prime Minister Shinzo Abe called the launch an intolerable, "violent" act. South Korean President Moon Jae-In too seemed to echo Abe's thoughts and called Pyongyang's behaviour "reckless."
South Korea's Joint Chiefs of Staff also noted that North Korea had test-fired the missile from Pyongsong, a city in South Pyongan Province. In response, Seoul also conducted a missile firing test, reported Reuters.
North Korea has been courting controversy with its nuclear programme for a while now, and the nation garnered massive criticism after it tested a hydrogen bomb on September 3. Since then, the United Nations Security Council has slapped several sanctions on the nation including a ban on textile exports and a restriction on the shipment of oil products.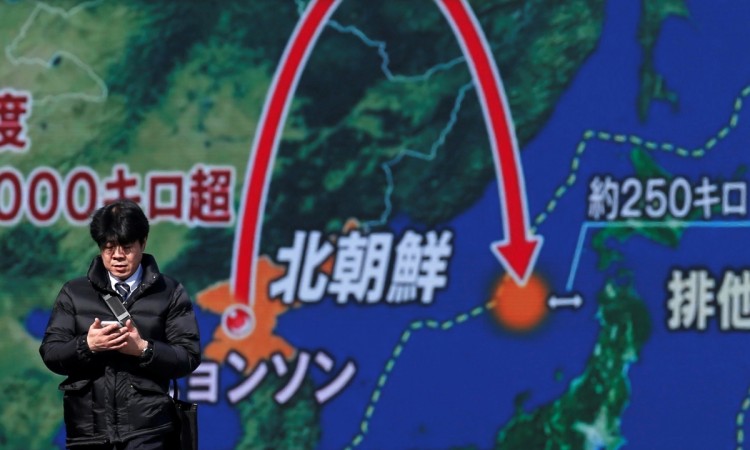 Even though the latest missile launch may land Pyongyang with more sanctions, US secretary of state Rex Tillerson has said that diplomatic options will remain "viable and open."
In the past, Trump has not really been subtle while speaking about Pyongyang and its nuclear programme and during his address to the UN General Assembly in September, he had threatened to "totally destroy North Korea."
Trump and North Korean leader Kim Jong-un have often indulged in a war of words and the latter has, on a number of occasions, used the choicest of words to describe Trump. Addressing the viewers on North Korean television, Kim had called Trump a "rogue" and a "gangster." He had also called the US president a "frightened dog" and warned that he would "pay dearly" for publicly threatening North Korea.
"I will surely and definitely tame the mentally deranged US dotard with fire," Kim said in a statement, which was translated by Conflict News. "A frightened dog barks louder. I'd like to advise Trump to exercise prudence in selecting words, and to be considerate of whom he speaks to when making a speech in front of the world."