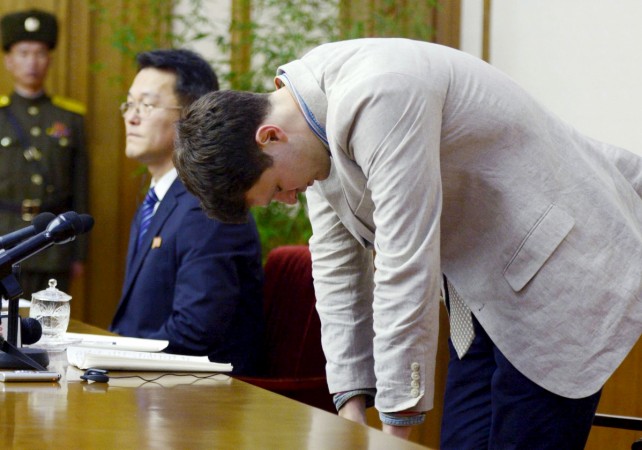 North Korea presented arrested American student Otto Warmbier before the media Monday and claimed that he had confessed to "severe crimes" against the state. The 21-year-old student from University of Virginia was detained last month on charges of attempting to steal a North Korean banner from a hotel in Pyongyang.
The Kim Jong-un regime has accused the American of crime against the state with "the tacit connivance of the U.S. government and under its manipulation."
"I committed the crime of taking out a political slogan from the staff-only area of the Yanggakdo International Hotel," Warmbier was quoted saying by the Korean central News Agency, Pyongyang's state media. He was allegedly trying to take the banner as a "trophy" for a church member.
"I never, never should have allowed myself to be lured by the United States administration to commit a crime in this country. I wish that the United States administration never manipulate people like myself in the future to commit crimes against foreign countries. I entirely beg you, the people and government of the DPRK, for your forgiveness. Please! I made the worst mistake of my life!" he said, according to CNN.
Stating that the press conference was held at Warmbier's request, the state media reported the American commending North Korea's "humanitarian treatment of severe criminals like myself."
The American student was reportedly seen sobbing at the press conference. He reportedly said he had agreed to steal the slogan as he was facing financial difficulties and that the church had offered him money.