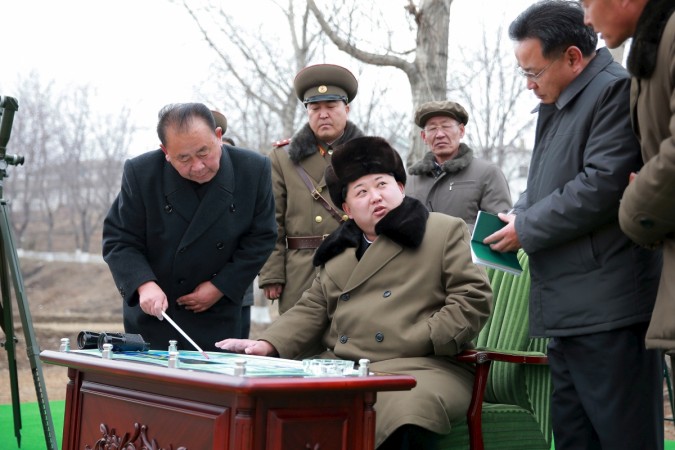 North Korea released a propaganda video Monday threatening to blow up the Blue House, South Korea's presidential office and residence, and other government buildings. North Korea had recently posted a similar video showing an attack on Washington.
Tension between the two Koreas escalated recently after the North tested multiple nuclear and missile rockets. The U.N. and the U.S. levied sanctions on North Korea following the tests, which are still being conducted. North Korea also claimed it had test-fired solid-fuel rockets, which need less preparation time for a launch. The Asian country has been threatening the U.S. and South Korea since they conducted their annual war games exercise, reported Yonhap.
The video released Monday threatens South Korea with an "ultimatum." The video, titled "If the ultimatum goes unanswered," shows the South Korean presidential office being reduced to rubble. "Everything will turn into ashes," the message at the end of the video says, according to Agence France-Presse.
A previous video released on the official DPRK Today website and YouTube showed a nuclear attack on the U.S.' Capitol Hill.
Analysts at a think tank in the U.S. were quoted as saying by AFP recent images from a nuclear facility in North Korea indicate the restive country is re-processing plutonium for nuclear bombs. The analysts examined photographs of exhaust smoke coming out of a steam plant used to heat a radiochemical laboratory.
The U.S. National Intelligence Director James Clapper had recently said North Korea was ready to extract weapon-grade plutonium. He was also quoted as saying by the Telegraph the Asian country has enlarged an uranium enrichment facility.
Pyongyang, which recently called for talks with the U.S., was quoted as saying in a statement by United Press International: "Maintaining stability is more urgent than unilateral sanctions, and providing negotiations can find a better solution than reckless military pressure."