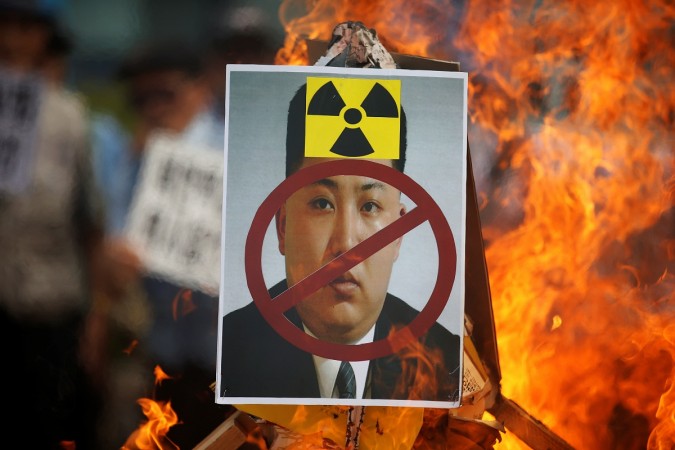 North Korea is ready to conduct another nuclear test at any moment, the South Korean defence ministry said on Monday. The statement comes days after Pyongyang conducted its fifth and, what is believed to be, their most powerful nuclear test.
"An additional test could be conducted in a tunnel that branches off from the second tunnel or in the third tunnel, where preparations have been completed," Ministry spokesman Moon Sang-Gyun said on Monday. The tunnel in question is situated at the Punggye-ri test site.
"Intelligence authorities in Seoul and Washington are keeping close tabs," an unnamed government official was quoted as saying by South Korean news agency Yonhap.
Moon Sang-Gyun had refused to give further details due to security reasons. However, he added that the country is prepared to take on North Korea if it shows indications of attempting a nuclear attack.
After North Korea's nuclear test on Friday, South Korea unveiled its plan of tackling Pyongyang if there was any threat perception.
"Every Pyongyang district, particularly where the North Korean leadership is possibly hidden, will be completely destroyed by ballistic missiles and high-explosive shells as soon as the North shows any signs of using a nuclear weapon. In other words, the North's capital city will be reduced to ashes and removed from the map," a South Korean government source told Yonhap.
Even though South Korea said that the isolated neighbouring country is ready to conduct its next nuclear test, the fact that it had not been able to predict the Friday test raises questions regarding South Korea's ability to gather intelligence. However, experts have said that though there are doubts regarding North Korea's ability to mount nuclear warheads, their progress is worrying.
The United Nations is working on levying further sanctions on North Korea after the Friday test, which the country has scoffed at.
Meanwhile, in a show of strength against North Korea, the United States will fly a US military B-1B bomber flight over South Korea on Tuesday. The flight was scheduled to take place on Monday, but got delayed due to bad weather.