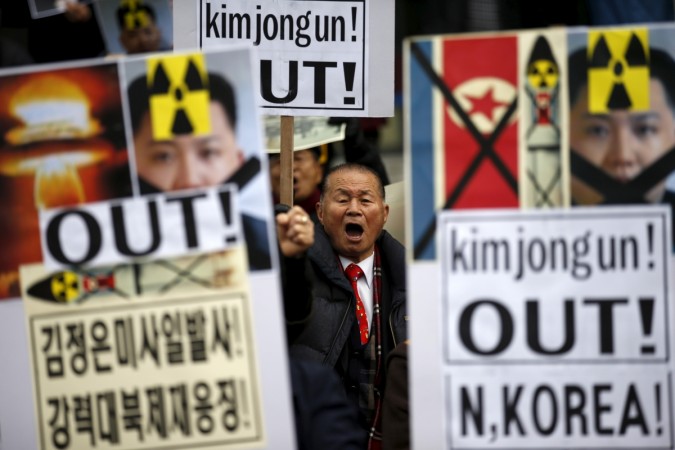 North Korean leader Kim Jong-un has instructed its military to prepare for terror attacks on South Korea, Seoul's intelligence agency has reportedly informed the country's ruling party. The ruling party has been told the North may use poisons for the attacks or even kidnap citizens of the South, Yonhap reports.
The disclosure about North's plan was made at a meeting between the government and ruling Saenuri Party. The South's National Intelligence Service (NIS) informed lawmaker Lee Chul-woo Pyongyang might target "subways, shopping malls, exhibition centres, power plants," CNN reports.
"North Korea's terrorist attack could be in the form of causing harms to anti-North Korean activists, North Korean defectors or government officials," CNN quoted Lee as saying.
The North's Reconnaissance General Bureau has been instructed to carry out cyberattacks as well. South Korea had blamed North Korea of cyberattacks earlier as well.
In December 2014, hackers tried to steal data, including plant blueprints and personnel information, from Seoul's nuclear operator. Another cyberattack took place on March 23, 2013, when details on the hard disks of about 48,000 people in banks and media houses were deleted. South Korea had blamed North Korea for both cyberattacks, according to CNN.
The latest revelation comes even as Seoul has called for stricter sanctions against Pyongyang over its violation of United Nations Security Council (UNSC) resolutions by launching a rocket on Feb. 7 and testing a nuclear device, which North Korea claimed was a miniaturised hydrogen bomb, on Jan. 6.
In response to Pyongyang's violations of UNSC resolutions, Seoul had last week shut down operations at Kaesong Industrial Complex, run jointly with the North. The factories at the complex employed as many as 50,000 North Korean workers. The South alleged that North used 70 percent of workers' wages to develop nuclear and other military weapons.