We understand that jeans are casual wear and often for rough and tough use. It has often even been said that jeans are not supposed to be washed and instead they are frozen to kill bacteria and keep them clean. However, American luxury departmental store Nordstrom has gone a step further and is selling pre-dirtied jeans. No, we are not kidding.
Nordstrom has listed a pair of "heavily distressed" muddied jeans on its website and its costs a whopping $425.
"Heavily distressed medium-blue denim jeans in a comfortable straight-leg fit embody rugged, Americana workwear that's seen some hard-working action with a crackled, caked-on muddy coating that shows you're not afraid to get down and dirty," is how the brand describes the jeans, which is available in sizes 29-42.
The pair of jeans has already become a hot topic of discussion on social media and people cannot stop wondering why anyone would buy the jeans. While Twitter user Connie posted: "#DirtyDenim is going to be sold at Nordstrom's for $400+? Just give me the $400 and I'll throw mud on you," actor Mike Rowe wrote: "Finally – a pair of jeans that look like they have been worn by someone with a dirty job...made for people who don't. And you can have your very own pair for just $425.00."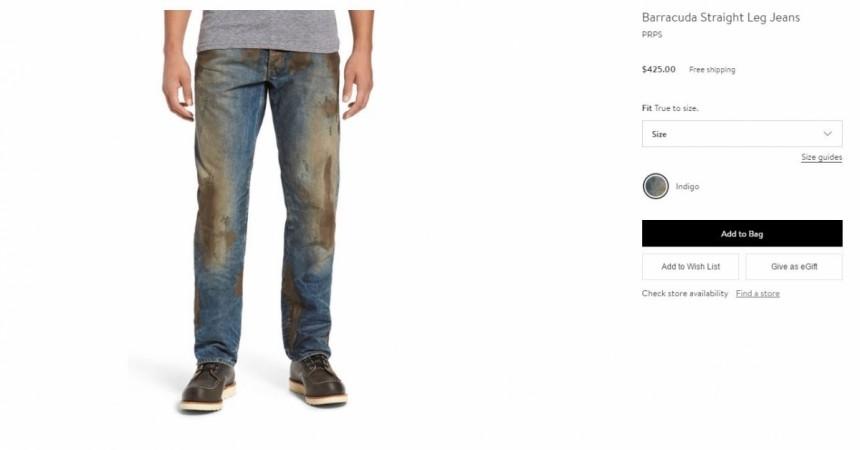 And just when we thought we had seen it all, Topshop made headlines with its clear jeans. The MOTO Clear Plastic Straight Leg Jeans is one of the most quirky items and will set you back by about $70. Topshop had earlier introduced jeans with clear knee patches, but this time the British fashion retailer has broken the mould.
"Think outside the box with these out-of-the-ordinary clear plastic jeans – guaranteed to get people talking. In a straight leg cut, they feature classic pockets detailing and are cropped at the ankle bone. Ideal as a statement piece for a festival or costume party, take the look to the extreme with a bikini and sequin jacket or dress down, layered under an oversized jumper or asymmetric hem dress. 100% Polyurethane. WIPE CLEAN ONLY," is how the brand describes the jeans.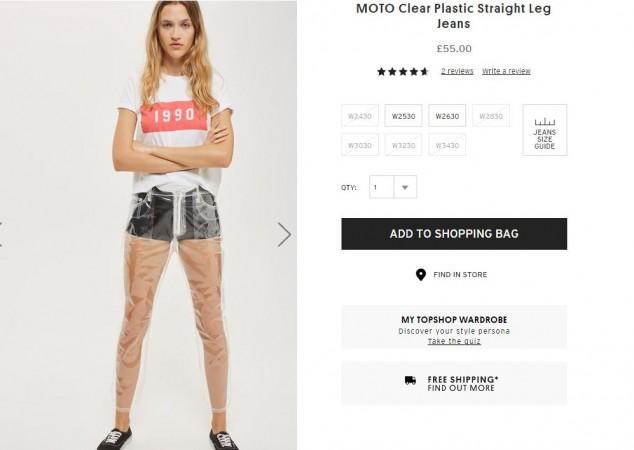 Since the jeans appeared on Topshop's site, social media users are having a field day commenting on it. The posts range from "Clear Plastic Jeans Are You Feeling Okay Topshop," and "Go home Topshop you're drunk," to "The British fashion retailer Topshop is selling plastic jeans that are 100% see-through. Or, as Nicki Minaj calls them: Formal wear," and "£55 for a rain coat wrapped round my legs no thanks."