The Board of Control for Cricket in India (BCCI) has requested Cricket Australia (CA) to strike off beef from the lunch menu of the Indian cricket team during the two-month long tour, starting November 21.
An advance party from the apex body of Indian cricket had left for Australia two weeks ago to make all the necessary arrangements for the much-anticipated tour, according to a report on the Mumbai Mirror.
The request from the BCCI comes after the Indian team faced severe backlash from quite a few fans back in the country over their lunch menu that included "braised beef pasta" during the Lord's Test in London earlier this year.
The BCCI had put out a tweet of the lunch menu from the iconic ground wherein England crushed a Virat Kohli-led Indian team by an innings and 159 runs.
The cricket administrators in the country feel it is better to avoid another controversy during the tour Down Under where India have never won a Test series yet.
Meanwhile, the advance party has also requested the CA to have more vegetarian options in the menu and sought "Indianised" preparations, considering the number of vegetarians in the touring team.
Only recently, captain Kohli had revealed he was a vegan and shed light on how it has helped him improve his game. Under the 29-year-old's leadership, Team India is focussed a lot on its dietary discipline, which is in contrast to the times when players used to have junk food during practice sessions.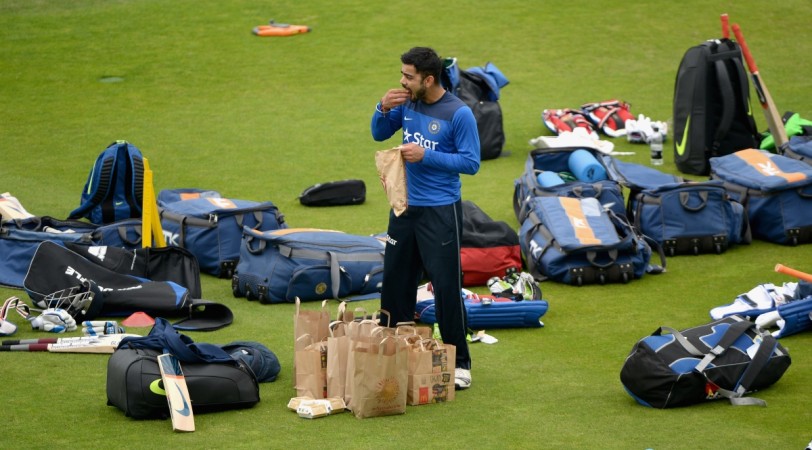 The news daily also quoted a source close to the advance party saying the BCCI has arranged for an Indian restaurant in Australia to supply the curries.
"Players often complain about the blandness of food served in Australia. There are a few vegetarians in the team who really struggle at the grounds. The inspection team has also roped in an Indian restaurant in Australia to supply curries to the boys," the source said.
India will begin the long tour with a three-match T20I series, starting August at the Gabba in Brisbane. All eyes will be on the four-Test series, starting December 6 in Adelaide as Kohli's men are seeking a historic win. Following the Test series, the Men in Blue will play three ODIs between January 12 and 18.