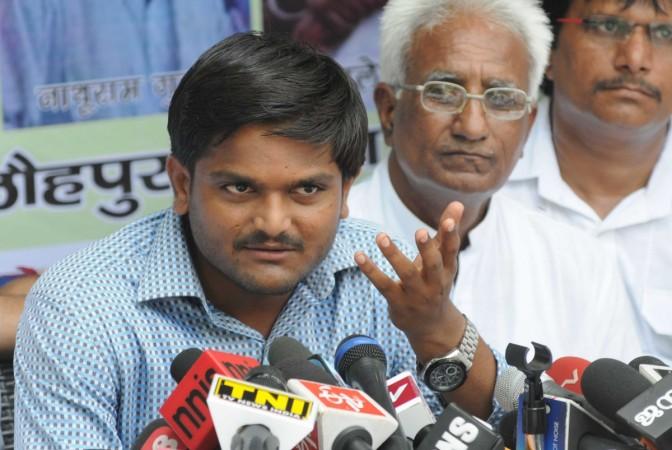 Bihar Chief Minister Nitish Kumar will address a rally at Saurashtra in Gujarat on January 28 with Akhil Bharatiya Patel Navnirman Sena chief Hardik Patel. He accepted Patel's invitation on Tuesday to support the Patidar agitation for quota in state government jobs and educational institutions.
Also in attendance will be Maratha Kranti Morcha convener Brigadier Sudhir Samant from Maharashtra and Gujjar leader Himmat Singh from Rajasthan.
Patel and Kumar held a meeting on Tuesday in Patna to discuss strategies for forming an anti-BJP alliance ahead of the Gujarat Assembly elections in 2017.
Kumar is said to have accepted Singh and Samant's invitation to address rallies in their home state, where they are demanding reservations.
"Nitish ji has supported our agitation and we will continue to seek guidance from a 'mahanayak' like him in future as well. That's the reason why we have invited him to address a rally on January 28," said Patel, who was charged with sedition after a Patidar agitation rally turned violent in Gujarat in 2015.
Patel is set to return to Gujarat in January 2017 after completing a high court order of staying out of the state for six months.
Patel and Kumar have identified Surat, Rajkot and Mehsana to launch their political attack on the BJP.
The BJP's tenure in Gujarat has been troubled since the Patidar agitation. The then Chief Minister, Anandiben Patel, had cracked down hard on the community who had been asking for reservations.
Patel, in a recent interview with the Indian Express, said that he invited many non-Congress and non-BJP leaders who believe in socialism, like Mamata Banerjee and former prime minister HD Deve Gowda.
"It' not a semifinal but the final," said Patel about the Gujarat assembly elections' significance to 2019 general elections.