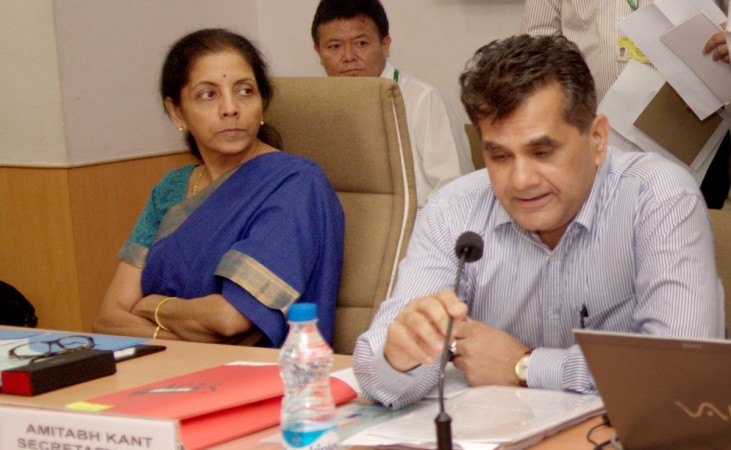 In the Narendra Modi government's continued attempts at encouraging a transition to digital payments, the National Institute for Transforming India (NITI) Aayog on Thursday announced a lottery with daily, weekly and mega awards for consumers and merchants.
The government's policy think-tank said that the awards will be offered through two schemes -- Lucky Grahak Yojana for consumers and Digi-Dhan Vyapar Yojana for merchants.
In order to encourage every section of the society to move to digital payments, the schemes will cover small transactions between Rs 50 and Rs 3,000. There will be a random draw of digital transaction IDs to select awardees, NITI Aayog CEO Amitabh Kant explained. All forms of transactions through UPI, USSD, Aadhar Enabled Payment System (AEPS) and RuPay cards will be eligible for lucky draws.
Kant also added that the plan will be executed at an estimated cost of Rs 340 crore and will be implemented by the National Payment Corporation of India (NPCI). NPCI is a not-for-profit company which is charged with the responsibility of helping India become a cashless society.
"The focus of Lucky Grahak Yojana and Digi-Dhan Vyapar Yojana is on poor, middle class and small businesses so as to bring them into digital payments revolution," Kant said.
Calling it a 'Christmas Gift' to the country, Kant added that the first draw will take place on December 25 and the mega-draw will happen on the birth anniversary of Dr BR Ambedkar – on April 14.
Through Lucky Grahak Yojana, 15,000 'lucky' customers will win cashback prizes of Rs 1,000 each every day starting from December 25 (Christmas) and ending on April 14, 2017 (Ambedkar Jayanti).
There will also be weekly awards worth Rs 1 lakh, Rs 10,000 and Rs 5,000 for 7,000 people.
Through Digi-Dhan Vyapar Yojana, 7,000 'lucky' merchants will receive weekly prizes worth Rs 50,000, Rs 5,000 and Rs 2,500.
Mega awards to be announced on April 14, 2017, for both consumers and merchants stretches from Rs 5 lakh to Rs 1 crore.
For consumers, the first prize is Rs 1 crore, the second prize is Rs 50 lakh, and the third is Rs 25 lakh. For merchants, the prizes are Rs 50 lakh, Rs 25 lakh, and Rs 5 lakh, respectively.
NITI Aayog highlighted that the scheme isn't applicable for transactions done through private credit cards and e-wallets of private companies.