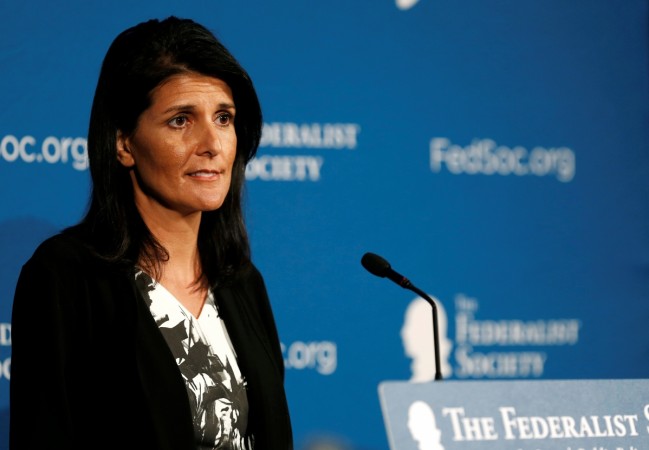 At a time when the world is concerned about US President-elect Donald Trump's controversial ideologies, Nikki Haley will have to advance core American values of equality and fairness in the world, former United States Ambassador to the United Nations for Special Political Affairs David Pressman on Thursday said.
Trump appointed Indian-American South Carolina governor Nikki Haley as the US ambassador to the United Nations in his administration on Wednesday. The decision has come at a time when Trump aides are looking to diversify the appointments in his administration. Haley's selection in Trump's team marks the first female appointment to a Cabinet level post by the Republican businessman.
Pressman said that the ambassadors at the UN have obsessively followed the US Presidential elections for the past year and are seriously concerned about some of the statements made by Trump during his presidential campaign. Considering the situation, Haley will have to assure the world that the core values of America still stand true, Pressman added.
"Governor Haley will have an enormous opportunity to remind the world that American leadership means standing up for the dignity of all people everywhere. It means advancing core American values like equality and fairness. It means speaking clearly and directly about violations of international humanitarian and human rights law even when -- indeed, especially when --it is not convenient."
Haley is considered a rising Republican star and has seen a remarkable political rise ever since she was elected as South Carolina's first female governor. She had seemed to negate Trump's campaign rhetoric earlier this year, asking people to "resist the temptation" after "siren call of the angriest voices." She is also pro-immigrant as she rubbished the anti-immigrant ideologies, stating "no one who is willing to work hard, abide by our laws, and love our traditions should ever feel unwelcome in this country."
"Success at the United Nations is about bringing extraordinary negotiating acumen to bear on the world's conflicts and problems. But it is fundamentally about more than negotiating deals - it is also about standing strong for American values. We need the President-elect and his team, including Governor Haley, to succeed in this critical arena and I will be rooting for her success," Pressman said.
Haley had backed Florida senator Marco Rubio in the primaries, who was running for the US presidency this year. However, she later came out in support for Trump ahead of the elections and said that she would be voting for him in New York. The appointment as the UN ambassador would be Haley's first post in the federal government.