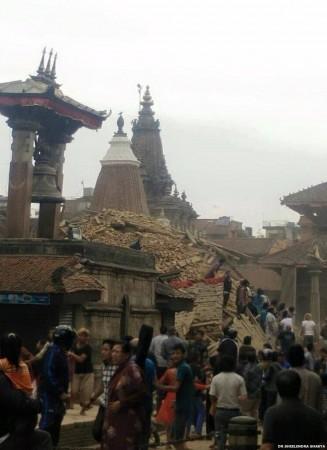 Nikhil Siddhartha, Samantha, Trisha, Ileana D'Cruz, Allari Naresh, Lakshmi Manchu, Taapsee Pannu, Rakul Preet, Adah Sharma and a host of other Tollywood stars offered prayers for the earthquake-affected victims in Nepal.
Around 2,000 people have lost their lives, while thousands went missing after the massive earthquake with the magnitude of 7.8 struck the country on 25 April. Many Tollywood celebs are shocked to hear the news. Soon after the news broke out, some took to their Twitter handles and offered prayers to the victims. A few also shared the emergency numbers to help the victims.
Samantha Ruth Prabhu: Shocked hearing about the massive earthquake in Nepal. We shot here. Devastating! Strength to those affected.
Nikhil Siddhartha: End of the World type earthquake scenes in Nepal...Dont knw how nd when nature can unleash her fury.. Really Realllyy sad... India will help
Trisha Krishnan: Heartbreaking !!! Prayers n strength to all in Nepal :(:(
Allari Naresh: Emergency Help Line Numbers #HelpNepal Victims Above all what they need is our Love & Support,Lets all Pray for them! What the people of Nepal needs the most now than Praying Hands is Real HELPING HANDS out there!So Lets all #HelpNepal not just #PrayforNepal
Lakshmi Manchu: My prayers to the People of Nepal and India. Natural disasters are so hard to comprehend. Strength to the families of the hurt
Taapsee Pannu: God is being really mean now! Tremors again! Not fair at all
Rakul Preet: Oh god!!! Tremors not again!! My prayers to all d affected families .. May their souls RIP
Varun Sandesh: My heartful condolences 2 all d people affected by d #earthquake :-( Strength 2 d families dat have lost der loved ones.. #tragic #saddening
Adah Sharma: Prayers to all those affected by the earthquake . The victims , families
Hamsa Nandini: 7.4 magnitude earthquake? Hope every 1ns well in north of India . Prayers. Tremors again? Is Mother Earth trying to tell us something?. Heart goes out to the affected families. #NepalEarthquake
Ileana D'Cruz: Terrible news about the news of the earthquake in Nepal! My prayers to all the families injured in this horrible tragedy.. ❤️
Musician Ramana Gogula: Our thoughts and prayers for the people of Nepal, NE India, Tibet and other regions that were affected by the devastating earthquake!
Sushanth A: Strong tremors continue after the quake. Scientists say they may last for a month stimes. Still need to be alert in quake affected areas!
Richa Panai: My prayers are with d people of Nepal who are suffering from this natural disaster.Please be safe and alert!n tc of your near and dear ones.
Actress Neetu Chandra: Heaetfelt condolences for people who lost their lives in #Nepal and #Bihar n #Up . Families , friends n... http://fb.me/6y7wFUmNO
Producer Neelima Tirumalasetti: My heart goes out to the people affected by the earthquake. Praying for them.
Singer Kousalya: A high-intensity quake shook Nepal's capital, causing extensive damage. Have seen devastating pictures and news! Prayers for all!!