The Bachelor star Nick Viall is slowly becoming a hot contender for Mirrorball Trophy on Dancing with the Stars.
Also read: Outlander Season 3 teaser: Here's what we know so far
Monday's episode of the ABC dancing reality show saw Viall and partner Peta Murgatroyd putting on a stellar performance that earned them a score of 34 out of 40– their highest of the season. The theme for Monday was Disney Night and Viall decided to experiment with his looks by shaving off his beard.
Speaking with Erin Andrews after his performance, Viall said it had been "a year and a half" since he last shaved his beard.
"I was a little reluctant at first, but then I was like, 'I'm just gonna own it. Let's go for it. What do we have to do?'" Viall said. "And then we just came out with blush."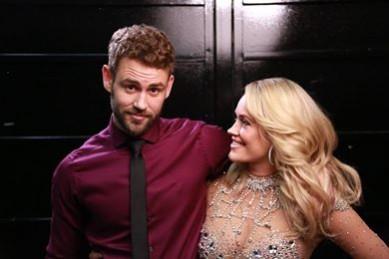 Viall revealed to People that he got mixed reviews about his decision to go beardless, but he did not reveal what his fiancée Vanessa Grimaldi thought of his new look.
Here are a few reactions to Viall's new look:
Should we talk about how bad Nick Viall looks without a beard ♀️

— Olivia Weiss (@liv_weiss) April 17, 2017
How dare Nick Viall shave his beard the week of finals?!?!?!?!, I don't have the emotional capacity to deal with this right now. Pass — HAPPY BDAY KOURT (@gabbyheroux) April 17, 2017
It's like Justin Bieber knew we would all need a pickup after Nick Viall shaved his beard so he released his Despacito Remix

— HAPPY BDAY KOURT (@gabbyheroux) April 18, 2017
Viall escaped elimination when Real Housewives of Beverly Hills star Erika Jayne and her dancing partner Gleb Savchenko got the boot.